Appliance Repair and Parts Help, New Purchase Info and More!
Welcome to Appliance Repair Aid, Your Online
Appliance Repair Shop
ApplianceAid.com is your resource for appliance repair help and appliance parts. We also have appliance purchase help information if your old appliance is just too far gone for fixing, and a wealth of other appliance information.
---
Appliance tip of the week...
Scary Home Noises You Shouldn't Ignore
As a homeowner, you know the typical noises of your house: the hum of the refrigerator, the whir of your dishwasher or the clunk of the furnace turning on. However, there are some not-so-good appliance or HVAC noises that you should pay close attention to before they go from just noisy to full-on frightening. Here are five scary home noises you should never avoid:
Washing Machine
Okay, so there are about a dozen reasons your washer could be making too much noise. It could be a bearing issue, a defective tub seal, drive pulley, motor coupling, clutch, drive belt or some other issue. Chances are a part will need to be replaced. Check out this repair help article to help you diagnose the problem.
Refrigerator
If your fridge is making more noise than usual, it may be a fan issue. Either the fan blade is rubbing against something, the evaporator fan motor or condenser fan motor are kaput, the compressor is worn out or the water inlet valve needs to be replaced. This helpful article walks you through all these issue.
Dishwasher
There are several parts that could be at fault when your dishwasher is making a ruckus, so be prepared to potentially replace the drain or circulation pump, wash impeller, pump and motor assembly, circulation and drain pump motor or the water inlet valve. Learn more about these repairs here.
Bathroom Fan
Being less complicated than a refrigerator or dishwasher, there are probably only three parts causing your bathroom fan to rumble: the exhaust fan motor bearings may be worn out, the blower wheel could be rubbing against something or is defective or the fan blade could be damaged or obstructed. Click here to read more about these parts and issues.
Furnace
Is your furnace sounding like it could blow the house down? Then you might want to see if the blower wheel is loose or damaged, the blower motor is worn out, the draft inducer motor is defective or the draft inducer blower wheel needs replacing. Troubleshoot your furnace problems here.
If you're dealing with any of the above issues, you'll need to find your model number before you can truly diagnose the problem. Keep in mind that RepairClinic.com only sells authentic parts, not generic. Your appliances will thank you!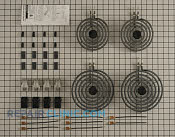 Surface coil element replacement kit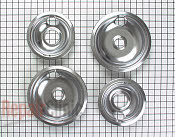 Set of four chrome drip pans, 2 small, 2 large.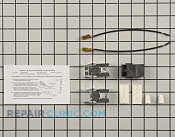 Stove top surface element terminal block kit with interchangeable mounting brackets.
Care For It. Check out our maintenance calendar to help your appliance or lawn mower improve its efficiency and extend its life.
Ugly is the new Sexy! Get Your Ugly Christmas Sweater here.