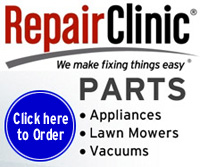 Due to high costs for keeping this site running, please consider making a donation.
Shop fall fashion for the whole family at Walmart.com!
Shop Women's Fall Fashion Essentials at Walmart.com!
Save on Men's Fall Fashion at Walmart.com!
Shop Kids' Fall Fashion for Less at Walmart.com!
Dryer repair help and repair parts...
Dryer References - Dryer Maintenance Tips - Frequently Asked Questions

Shop Amazon - Fall Grooming Guide Presented by Men's Fitness
Shop Pets Halloween - Best-Selling Pet Costumes
Shop Amazon - Women's Halloween Costumes
Shop Amazon - Men's Halloween Costumes
Shop Amazon - Baby Halloween Costumes
Appliance Repair and Parts Help, New Purchase Info and More!
Welcome to Appliance Repair Aid, Your Online
Appliance Repair Shop
ApplianceAid.com is your resource for appliance repair help and appliance parts. We also have appliance purchase help information if your old appliance is just too far gone for fixing, and a wealth of other appliance information.
---
Appliance tip of the week...
Some common repair info on testing this type of a problem. Did the water and ice stop dispensing at the same time?...if yes, look for things that are common to both. Door safety switch, broken wire.
Ice dispenser only has quit. How some work....putting a glass against the glass pad pushes on a micro switch that sends power to the dispenser motor inside the freezer. The ice cube flapper door opens for the ice to go through the door. The dispenser motor inside the freezer turns the dispenser bucket arm to pull the ice forward in the bucket towards the door ice cube opening. The ice falls through the door flapper opening into the glass.
Things that can happen:
micro switch broken
dispenser motor bad
dispenser motor is frozen
( thaw with hair drier, careful of any plastic or foam parts! )
loose wire on the dispenser
broken wire
some incorporate an electronic board that sends the power to the motor inside the freezer.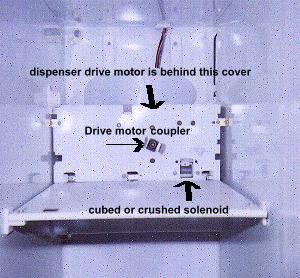 There is an option to select cubed or crushed ice, the problem is, only crushed ice is being dispensed, even when the cubed ice selection is made. Everything else works just fine. This particular refrigerator was about 2 years old.
There should be a solenoid behind the ice bucket ( see picture above ) that moves an metal arm on the ice bucket to move the crush teeth away for cubes or keeps the crush teeth in place for crushed cubes. Bad solenoid, bad wire at the solenoid, broken solenoid/mechanism piece, bent arm, no power from dispenser to the solenoid are -some- possible trouble makers.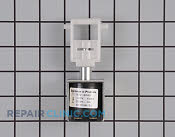 Frigidaire Refrigerator Crushed/Cubed Ice Solenoid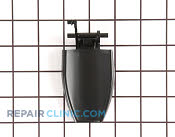 Water dispenser actuator, black
---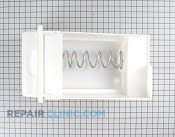 Ice dispensing bucket assembly
---
Care For It. Check out our maintenance calendar to help your appliance or lawn mower improve its efficiency and extend its life.