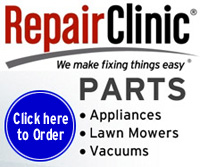 Due to high costs for keeping this site running, please consider making a donation.
A little today will help to ensure we will still be here tomorrow!
Content Article: Adopt These Money-Saving Habits This Winter
Content Article: Five Easy Fixes for Your Appliances
Content Article: Keeping Your Microwave Happy
Content Article: Range Cleaning 101
Cerama Bryte, glass-ceramic cooktop cleaner
Solid surface range element restorer
Oven cleaning kit, includes (1) expanding sponge, (1) scrubbing sponge, (1) scraper
Content Article: Quick & Easy Fridge Fixes
Content Article: 7 Simple Dryer Repairs You Can Do Yourself
Appliance Repair and Parts Help, New Purchase Info and More!
Welcome to Appliance Repair Aid, Your Online
Appliance Repair Shop
ApplianceAid.com is your resource for appliance repair help and appliance parts. We also have appliance purchase help information if your old appliance is just too far gone for fixing, and a wealth of other appliance information.
---
Appliance tip of the week.
Most Frequent conditions when a defrost heating element is bad.
The defrost heater - this is a electric heater imbedded in the evaporator coils, the heater melts the frost and changes the frost to water.
If the defrost heater assembly is defective, frost will continue to accumulate on the evaporator coils, and the coils will become plugged with frost. If the evaporator coils are frosted over, the airflow through the coils will be restricted, causing the refrigerator not to cool. Check the evaporator coils to determine if they are frosted over. If the evaporator coils are frosted over, test each component of the defrost system.
Refrigerator not defrosting? This video here provides information on how to test a defrost heater on a refrigerator.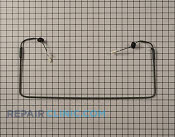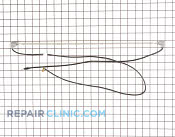 How a common frost free defrost cycle works and the main parts are linked here.
How can a defrost heater fail?
The defrost heater can fail and the evaporator coils will all get plugged up with white snow or frost.
It can ohm test as being open or no continuity.
Can it ohm ok and still be bad....no!
Can it intermittently work?....no!
Can they physically break?....yes!
Can they electrically break?....yes!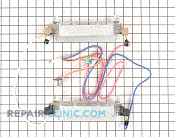 Refrigerator defrost heater kit with thermostat for side by side models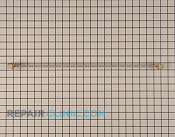 Defrost heater assembly, glass tube type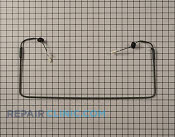 Defrost heater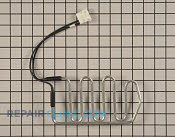 Defrost heater, icemaker evaporator