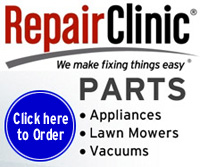 Due to high costs for keeping this site running, please consider making a donation.
Unclaimed Money Search Unclaimed Money Could Be Waiting For You To Claim It. Click here now for your free trial search.
Dryer repair help and repair parts...
Dryer References - Dryer Maintenance Tips - Frequently Asked Questions

Click Here to Get Instant Cash.
Free Shipping on orders $38.99+ or more at CoolGlow.com!
Appliance Repair and Parts Help, New Purchase Info and More!
Welcome to Appliance Repair Aid, Your Online
Appliance Repair Shop
ApplianceAid.com is your resource for appliance repair help and appliance parts. We also have appliance purchase help information if your old appliance is just too far gone for fixing, and a wealth of other appliance information.
---
Appliance tip of the week...
Problems with the glow bar system:
You may even see the orange "glow plug" (called a hot surface igniter) glowing orange and so assume that it's OK. Not necessarily!! You have to measure the current/amp drawn by the igniter and compare it to this repair sheet before you can say it's OK or not. The gas valve has a bi-metal that open when a certain amount of current flows through it to heat it up. The igniter is wired in series with the gas valve. As the igniter gets older or weaker, it's resistance increases to the point where not enough current is flowing to the gas valve bimetal to open it up. As a result, the gas valve never opens up. BTW, a common symptom of the early stages of this problem is erratic temperature control in the oven due to delayed firing of the bake burner while cooking.
The hot surface igniter will not come on:
Check igniter with a ohm meter, you should have continuity through the glow bar, the glow bar can also crack = new igniter time. The glow bar comes on but the main burner will not light - you should have an amp probe to check properly, but often this is a hot surface igniter problem. The hot surface igniter often looses it's ability to get hot enough to open the gas safety valve. The safety valve can fail, but most times it is just a bad hot surface igniter. The hot surface igniter can also quit part way through cooking , in other words the oven may cycle a couple of times and then it just sits there with the red glow from the igniter. See this service sheet for the proper way and amp readings for the hot surface igniter system. Hot surface igniters do weaken and will eventually generate less heat than they normally could. When this happens they can still allow marginally correct current to flow to the oven gas valve for it to open but not get quite hot enough to ignite the gas burner immediately. When this happens, gas released into the oven can sometimes build up to the point where when finally ignited, the amount of gas lit can cause a small explosion inside the oven or cause an odor of gas with out the oven working. Yes, your glow bar igniter can glow orange-red and still be bad!! How a common gas valve works - click here.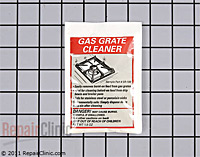 Gas grate cleaner
Range/Stove/Oven Parts
Stainless Steel Connector for Gas Range - Has everything you need to connect your range to your gas shutoff valve, including 4 feet of 5/8-inch outside diameter coated stainless steel gas connector with two fittings, leak detector solution and pipe sealant compound. Procoat polymer coating resists corrosion caused by bleach, ammonia and acids found in many home care products.
---
Care For It. Check out our maintenance calendar to help your appliance or lawn mower improve its efficiency and extend its life.