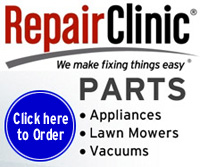 Due to high costs for keeping this site running, please consider making a donation.
Friday, September 4th is Force Friday! Go to Walmart.com for the latest Star Wars movies and to relive earlier movies and TV shows on DVD, Blu-ray and Video on Demand by VUDU. You'll also find exciting Star Wars video games, Star Wars books and Star Wars toys, including action figures, LEGO Star Wars sets and more. You can even deck out your home with Star Wars-themed bedding and wall art. Plus, even more exciting news, you'll find a bunch of new Star Wars products and Walmart.com exclusives! In addition, you can get free shipping on orders $50+. And may the Force be with you!
Star Wars- A New Generation is here. Be part of the story & save big at Walmart.com!
Appliance repair help and repair parts...
RepairClinic.com is the trusted online store with 1,000,000+ replacement parts and maintenance products for 160 appliance, outdoor power equipment and heating and cooling equipment brands

Accessing Front Console Dryers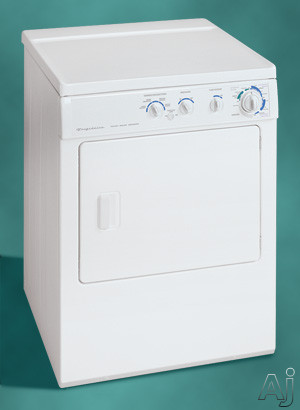 Remove power!!
Using a flat screwdriver or putty knife, press in to release the top clips. The top panel will tilt towards the back of the unit.
Remove screw on the top inside of the front panel, one on the right and one on the left side.
The top of the front panel will tilt out towards you, the front panel can be lifted off of the clips on the bottom. Many have male-female wire connectors that can be undone if you wish to totally remove the front panel.
The drum can be lifted up and out of the rear bearing socket if need to remove the whole drum, disconnect the belt first. Do not touch these screws to remove the drum!!
Timer, buzzer, door switch close up picture.
---
Many of these front consol dryers have an end of cycle buzzer. There have been some complaints about that and Frigidaire has come out with a quieter 74 dba. buzzer that can be installed in place of the original 87.5 dba. one. The replacement is part number 131981300 and can be ordered.....or you may be able to access the consol and disconnect and tape one of the wires from the buzzer itself. Some dryers have the buzzer built into the timer, for this style you will need to jam the buzzer to stop the vibrating plate from moving on the buzzer.
---
If your front consol dryer is stacked on top of the washer and you want the dryer taken down. There is 2 small plastic plugs on the front bottom, remove the plugs and the 2 screws. Lift the front of the dryer up and the whole dryer towards the front to disengage the brackets at the back and the dryer can be lifted down. Don't forget to disconnect venting and power plug first! Two people is safer as well!
---
Dryer Parts