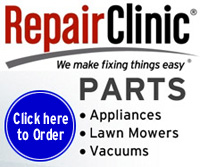 Due to high costs for keeping this site running, please consider making a donation.
Get the money you need with an advance!
Dishwasher repair help and repair parts...
Dishwasher References - Dishwashre Maintenance Tips - Frequently Asked Questions

Snow Flake Foil Centerpiece
$1.99
Includes (1) 12 inch tall snow flake centerpiece. [Read More]
Christmas Day is coming!!
50% Off Retail Prices for Wine Club Members at Cellars Wine Club.
Cookies From Home
Maytag Age
This page may help you find out the manufacturing date of your Maytag built appliance. Maytag now also owns, Jenn-Air, MagicChef and Amana.
You will need to write down the serial number from your model/serial tag.
Example serial number: 15114672UY
15114672UY - UY is the date code. The first letter is the year - U = 1998. The second letter is the month - Y = November. This appliance was made November of 1998.
First letter is the year, second letter is the month.
| | | |
| --- | --- | --- |
| Year | Letter | Month |
| 1980 | E | March |
| 1981 | G | April |
| 1982 | J | May |
| 1983 | L | June |
| 1984 | N | July |
| 1985 | P | August |
| 1986 | R | Sept. |
| 1987 | T | Oct. |
| 1988 | V | Nov. |
| 1989 | X | Dec. |
| 1990 | B | January |
| 1991 | D | February |
| 1992 | F | March |
| 1993 | H | April |
| 1994 | K | May |
| 1995 | M | June |
| 1996 | Q | July |
| 1997 | S | August |
| 1998 | U | Sept. |
| 1999 | W | Oct. |
| 2000 | Y | Nov. |
| 2001 | Z | Dec. |
| 2002 | A | January |
| 2003 | C | February |
| 2004 | E | March |
| 2005 | G | April |
| 2006 | J | May |
| 2007 | L | June |
---
Appliance Parts