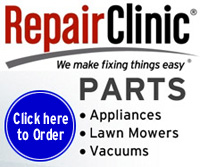 Due to high costs for keeping this site running, please consider making a donation.
Amazon gift card for Mothers Day
How to get your lawnmower ready for spring and MUCH, MUCH, MUCH more!
The Great Spring Tune-Up Kit Sale

My Model Numbers - Saved just for you for future reference
Maytag Age
This page may help you find out the manufacturing date of your Maytag built appliance. Maytag now also owns, Jenn-Air, MagicChef and Amana.
You will need to write down the serial number from your model/serial tag.
Example serial number: 15114672UY
15114672UY - UY is the date code. The first letter is the year - U = 1998. The second letter is the month - Y = November. This appliance was made November of 1998.
First letter is the year, second letter is the month.
| | | |
| --- | --- | --- |
| Year | Letter | Month |
| 1980 | E | March |
| 1981 | G | April |
| 1982 | J | May |
| 1983 | L | June |
| 1984 | N | July |
| 1985 | P | August |
| 1986 | R | Sept. |
| 1987 | T | Oct. |
| 1988 | V | Nov. |
| 1989 | X | Dec. |
| 1990 | B | January |
| 1991 | D | February |
| 1992 | F | March |
| 1993 | H | April |
| 1994 | K | May |
| 1995 | M | June |
| 1996 | Q | July |
| 1997 | S | August |
| 1998 | U | Sept. |
| 1999 | W | Oct. |
| 2000 | Y | Nov. |
| 2001 | Z | Dec. |
| 2002 | A | January |
| 2003 | C | February |
| 2004 | E | March |
| 2005 | G | April |
| 2006 | J | May |
| 2007 | L | June |
---
Appliance Parts