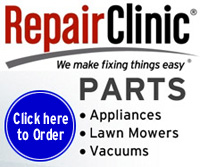 Due to high costs for keeping this site running, please consider making a donation.
Find Great Valentine's Day Gifts at Sweet Prices at Walmart.com
Shop Gifts at Sweet Prices this Valentine's Day at Walmart.com
Dryer repair help and repair parts...
Dryer References - Dryer Maintenance Tips - Frequently Asked Questions

Super Bowl is soon!!
Shop Snacks for Less at Walmart.com!
Save More on Kitchen Appliances at Walmart.com!
Find Great Big Screen TVs for Less at Walmart.com!
Amana Frigidaire Oven Self-Cleaning Help
Amana style range....
Remove oven racks...
Frigidaire WCI built ranges....
Remove oven racks.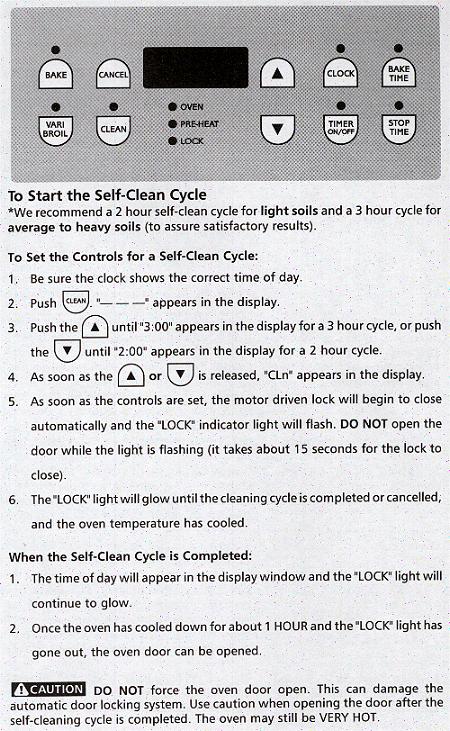 Frigidaire, WCI built ranges....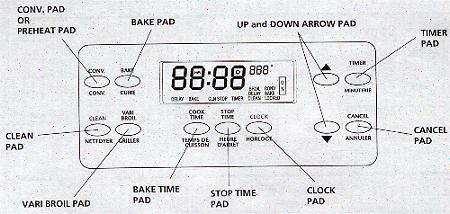 Remove oven racks.
Push Clean pad. "Clean Time" will flash in the display.
Push and hold the Up or Down arrows until "3HR:00 appears in the display.
As soon as the controls are set, the motor driven lock will begin to operate automatically. The word "clean" is displayed and the word "locked" flashes until the door is completely locked.
The word "on" comes on and goes off, cycling with the oven elements.
The door will unlock after the oven has cooled down enough at the end of the self clean cycle.
---
Range manuals
Don't know a thermostat valve from a safety valve? We'll help you figure it out! Our cooking manuals cover a wide selection of gas and electric models of ovens and cook tops, ranges and stoves, self-cleaners and convection ovens.
Range/Stove/Oven Parts