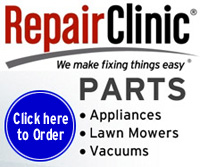 Due to high costs for keeping this site running, please consider making a donation.
Give Your Memory a Boost with Lipogen
MyFoodIntolerance: Boost Your Health and Energy. Get Alcat Test Package Today! CLICK HERE
Dryer repair help and repair parts...
Dryer References - Dryer Maintenance Tips - Frequently Asked Questions

Start Filing Your Taxes - Here
Valentines Day is coming!
Cellars Wine Club
American-GE Appliance Age
This page may help you find out the manufacturing date of your GE (USA) built appliance. GE makes Hotpoint, GE and the American RCA.Amana appliance production/age helps....
You will need to write down the serial number and letters from your model/serial tag.
The date code is in the letters on your serial number.
Example serial number: LT221102
LT221102 - L = month - June
LT221102 - T = year 1986 or 1998
LT was built June 1998 or June 1986
Date codes - First letter is the month and the second letter is the year.
A = January D = February F = March G = April H = May L = June M = July R = August S = Sept. T = Oct. V = Nov. Z = Dec.
G = 1980 & 1992 *H = 1981 & 1993 L = 1982 & 1994 M = 1983 & 1995 R = 1984 & 1996 S = 1985 & 1997 T = 1986 & 1998 V = 1987 & 1999 Z = 1988 & 2000 A = 1989 & 2001 D = 1990 & 2002 F= 2003 G = 2004 *H =2005
* The same twelve easily distinguishable letters of the alphabet will be used and repeated in a twelve year cycle
---
Appliance Parts