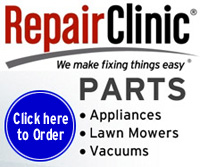 Due to high costs for keeping this site running, please consider making a donation.
Shop Amazon - The Wedding Store
Dryer repair help and repair parts...
Dryer References - Dryer Maintenance Tips - Frequently Asked Questions

Shop Pets Halloween - Best-Selling Pet Costumes
Shop Amazon - Women's Halloween Costumes
Shop Amazon - Men's Halloween Costumes
Shop Amazon - Baby Halloween Costumes
Appliance Complaints
Sometimes something just bothers us enough that we just need to COMPLAIN. This can be a good thing!! Venting can help....that is what this section is for. If you need to complain/vent about a product, store or service, the links below may help you out.
Complaints.com
ConsumerAffairs.com
My 3 cents.com
The Art of Complaining....
None of these consumer web sites are affiliated with Applianceaid.com - none of the information found on these sites has been copied or re-produced on Applianceaid.com - links above are just provided for the customers of Applianceaid.com
---