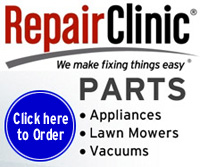 Due to high costs for keeping this site running, please consider making a donation.
Appliance repair help and repair parts...
RepairClinic.com is the trusted online store with 1,000,000+ replacement parts and maintenance products for 160 appliance, outdoor power equipment and heating and cooling equipment brands

Appliance Complaints
Sometimes something just bothers us enough that we just need to COMPLAIN. This can be a good thing!! Venting can help....that is what this section is for. If you need to complain/vent about a product, store or service, the links below may help you out.
Complaints.com
ConsumerAffairs.com
My 3 cents.com
The Art of Complaining....
None of these consumer web sites are affiliated with Applianceaid.com - none of the information found on these sites has been copied or re-produced on Applianceaid.com - links above are just provided for the customers of Applianceaid.com
---