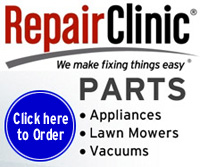 Due to high costs for keeping this site running, please consider making a donation.
Friday, September 4th is Force Friday! Go to Walmart.com for the latest Star Wars movies and to relive earlier movies and TV shows on DVD, Blu-ray and Video on Demand by VUDU. You'll also find exciting Star Wars video games, Star Wars books and Star Wars toys, including action figures, LEGO Star Wars sets and more. You can even deck out your home with Star Wars-themed bedding and wall art. Plus, even more exciting news, you'll find a bunch of new Star Wars products and Walmart.com exclusives! In addition, you can get free shipping on orders $50+. And may the Force be with you!
Star Wars- A New Generation is here. Be part of the story & save big at Walmart.com!
Appliance repair help and repair parts...
RepairClinic.com is the trusted online store with 1,000,000+ replacement parts and maintenance products for 160 appliance, outdoor power equipment and heating and cooling equipment brands

Appliance Fun Section
Appliance Jokes, fun puzzles and more.... just for fun!!
Cooking fun stuff.... Cooking Salmon in a Dishwasher
Two gas company servicemen, a senior training supervisor and a young trainee, were out checking meters in a suburban neighborhood. They parked their truck the end of the alley and worked their way to the other end.
At the last house a woman looking out her kitchen window watched the two men as they checked her gas meter.
Finishing the meter check, the senior supervisor challenged his younger coworker to a foot race down the alley back to the truck to prove that an older guy could outrun a younger one.
As they came running up to the truck, they realized the lady from that last house was huffing and puffing right behind them.
They stopped and asked her what was wrong.
Gasping for breath, she replied, "When I see two gas men running as hard as you two were, I figured I'd better run too!"
---
A blonde went to the appliance store sale and found a bargain. "I would like to buy this TV," she told the salesman, as he handed her a few of his business cards.
"Sorry, we don't sell to blondes," he replied.
She hurried home and dyed her hair, then came back and again told the salesman "I would like to buy this TV." "Sorry, we don't sell to blondes," he replied.
"Darn, he recognized me," she thought. She went for a complete disguise this time, haircut and new color, new outfit, big sun glasses, then waited a few days before she again approached the salesman. "I would like to buy this TV."
"Sorry, we don't sell to blondes," he replied.
Frustrated, she exclaimed "How do you know I'm a blonde?"
"Because", he replied, "that's a microwave."
---
Two confirmed bachelors were sitting and talking. Their conversation drifted from politics to cooking. "I got a cookbook once," said the first, "but I could never do anything with it." "Too much fancy cooking in it, eh?" asked the second. "You said it. Every one of the recipes began the same way - 'Take a clean dish and...'"
---