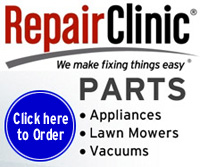 Due to high costs for keeping this site running, please consider making a donation.
Cellars Wine Club
Dishwasher repair help and repair parts...
Dishwasher References - Dishwasher Maintenance Tips - Frequently Asked Questions

Are You Owed Unclaimed Money & Don't Know It? Millions of Americans go year after year not even knowing that they have thousands of dollars in unclaimed money. Find out if you do with this easy free trial search.
Click Here to Get Fast Cash this Summer Season.
Appliance Manufacturer Information
Why duplicate things?!?!
Two useful sites have many of today's major appliance manufactures web sites and some of the not so major appliance web sites.
Appliance 411 has over 210 links to manufactures sites. "WOW"!!
OR
If you need to find a Manufactures site, try the Appliance Advisor. Many major manufactures sites can be found from this site.
Couldn't find what you are looking for?...try our phone# section.
Own a Kenmore? Department stores brands can be a pain as it is difficult to figure out which manufacture has made your product. This link here should help to find out which manufacture has made your Kenmore Appliance.
---