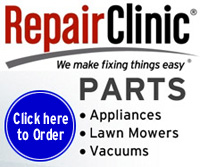 Due to high costs for keeping this site running, please consider making a donation.
Take the Hassle Out of Moving. Let MoverJunction Help You.
Appliance repair help and repair parts...
Repair Help for Appliances, Lawn Mowers, HVAC and more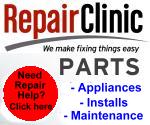 RepairClinic.com is the trusted online store with 1,000,000+ replacement parts and maintenance products for 160 appliance, outdoor power equipment and heating and cooling equipment brands

Get extra cash when quarters aren't cutting it. You can rely on Check Into Cash. Get cash now!
All brands of vacuum cleaners, vaccum accessories, parts and air purifiers available at Govacuum.com
$7.5 off any purchase $50 or more* at Govacuum. Use coupon code 7summer during checkout.
Bad Dryer Motor Detection
A common dryer motor problem has been intermittent running ( sometimes runs, sometimes won't run ) makes a strange noise and stops running. Check the motor end bells. If your motor end bell looks like the one in the picture...it is an indication of a faulty bad ( or going soon ) motor.
Take notice to the motor end, the end bell has worn to one side....this is a bad motor! One side is wider than the other side....see those red lines indicating the end of the motor has worn over to one side. Note: your motor will NOT have those red lines on it, they are an illustration on the picture only.
Oil leaking out of the motor end bell or cracks in the rubber on the motor end bell are other possible indicators of a motor going sour.
---
Dryer Parts