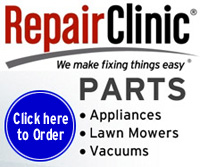 Due to high costs for keeping this site running, please consider making a donation.
Get the money you need with an advance!
Dishwasher repair help and repair parts...
Dishwasher References - Dishwashre Maintenance Tips - Frequently Asked Questions

Shop Holiday Clearance at Walmart.com!
Shop Holiday Rollbacks at Walmart.com!
Clearance & Rollbacks - the Deals You Waited for Are at Walmart.com
Christmas Day is coming!!
50% Off Retail Prices for Wine Club Members at Cellars Wine Club.
Cookies From Home
Bad Dryer Motor Detection
A common dryer motor problem has been intermittent running ( sometimes runs, sometimes won't run ) makes a strange noise and stops running. Check the motor end bells. If your motor end bell looks like the one in the picture...it is an indication of a faulty bad ( or going soon ) motor.
Take notice to the motor end, the end bell has worn to one side....this is a bad motor! One side is wider than the other side....see those red lines indicating the end of the motor has worn over to one side. Note: your motor will NOT have those red lines on it, they are an illustration on the picture only.
Oil leaking out of the motor end bell or cracks in the rubber on the motor end bell are other possible indicators of a motor going sour.
---
Dryer Parts