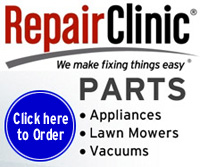 Due to high costs for keeping this site running, please consider making a donation.
Appliance repair help and repair parts...
RepairClinic.com is the trusted online store with 1,000,000+ replacement parts and maintenance products for 160 appliance, outdoor power equipment and heating and cooling equipment brands

Belt Drive Washer Help
Belt style Inglis, Whirlpool, some Kenmore washers...
Always remember Electricity is dangerous and should be treated with respect.
Please pick a topic by Make and or problem...hope you find this helpful :-)
How a washer works, good to read this first: Click here
Inglis, Whirlpool and Kenmore belt washers - common problems Like timers, pumping problems, leaking, spinning, agitating and spinning/agitating at the same time.
Inglis, Whirlpool and Kenmore - how to replace or check the wig/wag solenoid assembly from American appliance
Whirlpool apt size newest washer:
If your washer looks like this one. This is a nice compact washer that comes in a stationary model and a portable model. It has some difficult ways to be checked and repaired. I have some good information on the next sheets. Basics.....one.....two.....three.....four.....five.....six.....seven.....eight.....
Inglis, Whirlpool, Kenmore belt drive washer - parts breakdowns:
One is the cabinet.....Two is the console.....Three is the drive parts.....
---
More washing machine parts...