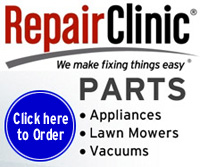 Due to high costs for keeping this site running, please consider making a donation.
Find Great Valentine's Day Gifts at Sweet Prices at Walmart.com
Shop Gifts at Sweet Prices this Valentine's Day at Walmart.com
Dryer repair help and repair parts...
Dryer References - Dryer Maintenance Tips - Frequently Asked Questions

Super Bowl is soon!!
Shop Snacks for Less at Walmart.com!
Save More on Kitchen Appliances at Walmart.com!
Find Great Big Screen TVs for Less at Walmart.com!
Cracked Refrigerator Liner
To mend a crack in an refrigerator liner:
You can drill a small ( 1/8 inch will do ) hole on both ends of that crack ( just past where the crack ends )...the drilled holes will stop the crack from spreading and going further. If the plastic is white, ( usually is ) I cover the crack with silicone, or each manufacture has some great repair tape for cracked liners....the repair kit tape.
Liner repair kit from Frigidaire
Liner repair kit from Maytag
Liner repair kit from Whirlpool
---
Refrigerator Parts