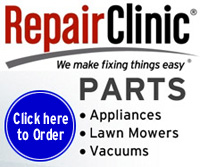 Due to high costs for keeping this site running, please consider making a donation.
Get Your Home Guest Ready at Walmart.com!
Now find new rollbacks on all things camping at Walmart.com! Hurry over now to save on tents, sleeping bags, coolers, and more.
Gear up for Holiday Hosting at Walmart.com!
Direct Drive Washer Spin Help
My direct drive washer will fill ok, agitates ok but when it comes to the spin and drain cycle the washer comes to a screeching halt...no spin, no draining and the timer stops, what's up?
A bad lid switch or broken lid switch plunger will allow the washer to fill and agitate bit can prevent the spin and draining from occurring, check the lid switch as a good place to start.
Lid Switch Kit
Switch Assembly - Lid
---