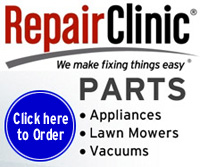 Due to high costs for keeping this site running, please consider making a donation.
Appliance repair help and repair parts...
RepairClinic.com is the trusted online store with 1,000,000+ replacement parts and maintenance products for 160 appliance, outdoor power equipment and heating and cooling equipment brands

Direct Drive Washer Spin Help
My direct drive washer will fill ok, agitates ok but when it comes to the spin and drain cycle the washer comes to a screeching halt...no spin, no draining and the timer stops, what's up?
A bad lid switch or broken lid switch plunger will allow the washer to fill and agitate bit can prevent the spin and draining from occurring, check the lid switch as a good place to start.
Lid Switch Kit
Switch Assembly - Lid
---
More washing machine parts...