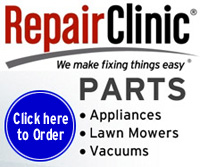 Due to high costs for keeping this site running, please consider making a donation.
Get the money you need with an advance!
Dishwasher repair help and repair parts...
Dishwasher References - Dishwashre Maintenance Tips - Frequently Asked Questions

Snow Flake Foil Centerpiece
$1.99
Includes (1) 12 inch tall snow flake centerpiece. [Read More]
Christmas Day is coming!!
50% Off Retail Prices for Wine Club Members at Cellars Wine Club.
Cookies From Home
Direct Drive Washer Spin Help
My direct drive washer will fill ok, agitates ok but when it comes to the spin and drain cycle the washer comes to a screeching halt...no spin, no draining and the timer stops, what's up?
A bad lid switch or broken lid switch plunger will allow the washer to fill and agitate bit can prevent the spin and draining from occurring, check the lid switch as a good place to start.
Lid Switch Kit
Switch Assembly - Lid
---
More washing machine parts...