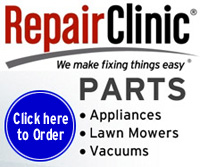 Due to high costs for keeping this site running, please consider making a donation.
A little today will help to ensure we will still be here tomorrow!
A snowblower makes it easy to clear snow from walkways, driveways and other areas. Like other outdoor power equipment, the snowblower must be properly maintained for safety purposes and in order to operate efficiently.
Direct Drive Washer Spin Help
My direct drive washer will fill ok, agitates ok but when it comes to the spin and drain cycle the washer comes to a screeching halt...no spin, no draining and the timer stops, what's up?
A bad lid switch or broken lid switch plunger will allow the washer to fill and agitate bit can prevent the spin and draining from occurring, check the lid switch as a good place to start.
Lid Switch Kit
Switch Assembly - Lid
---