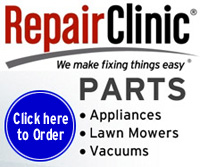 Due to high costs for keeping this site running, please consider making a donation.
It's On! Find Big Deals Before Black Friday at Walmart.com
Pre-Black Friday at Walmart.com- Find Big Deals before the Big Day!
Pre-Black Friday is On at Walmart.com! Find Big Deals before the Big Day
Dishwasher repair help and repair parts...
Dishwasher References - Dishwashre Maintenance Tips - Frequently Asked Questions

This Black Friday, win the day with our best deals of the year at Walmart.com!
Shop Black Friday Deals at Walmart.com!
Christmas Day is coming!!
Cookies From Home
Find the tackiest sweater you can imagine at UglyChristmasSweater.com today!
Dishwasher Impeller
Many times a complaint of noises ( grinding or scraping ) can be traced to a cracked impeller in many of the common motor and pump assemblies used today. Sometimes a poor washing complaint is common after this wash impeller has cracked. Remove power first before investigating.
The motor shaft has started to rust and swells out and this swelling cracks the upper impeller. Most times a new seal and impeller kit can cure this complaint but sanding and cleaning of motor shaft is required before replacing the new seals and impellers.
---
Dishwasher Parts