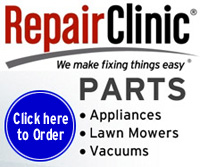 Due to high costs for keeping this site running, please consider making a donation.
A little today will help to ensure we will still be here tomorrow!
Content Article: Adopt These Money-Saving Habits This Winter
Content Article: Five Easy Fixes for Your Appliances
Content Article: Keeping Your Microwave Happy
Content Article: Range Cleaning 101
Cerama Bryte, glass-ceramic cooktop cleaner
Solid surface range element restorer
Oven cleaning kit, includes (1) expanding sponge, (1) scrubbing sponge, (1) scraper
Content Article: Quick & Easy Fridge Fixes
Content Article: 7 Simple Dryer Repairs You Can Do Yourself
Dishwasher Leaking Hose
Many of the manufactures today have gone to a plastic corrugated drain hose on there dishwashers. These hoses have been trouble for leaking!!. Where the drain hose makes a bend it seems to get weak and splits = water on the floor. If you have a leaking water problem, especially if the dishwasher still leaks when the dishwasher is not in use complaint...check for a cracked drain hose.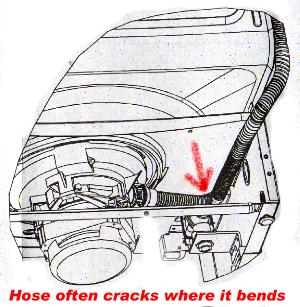 Removing the dishwasher access panel help so you can check the hose.
---