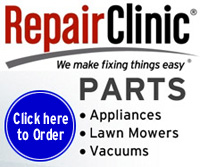 Due to high costs for keeping this site running, please consider making a donation.
Amazon gift card for Mothers Day
How to get your lawnmower ready for spring and MUCH, MUCH, MUCH more!
The Great Spring Tune-Up Kit Sale

My Model Numbers - Saved just for you for future reference
Dishwasher Spray-Arm Leak
Some leaking around-under-from the door on dishwashers can be traced back to a split in the spray arm. If the lower spray arm develops a split in it, the spray arm can turn too fast, and shoot water directly at things that it is not suppose to spray water at....sprays water at the door vents or edges and can create water leaks.
A split on a Maytag dishwasher lower spray arm...
(Click on the picture to make it bigger)
---
Dishwasher Parts