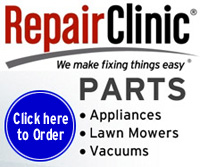 Due to high costs for keeping this site running, please consider making a donation.
Find Great Valentine's Day Gifts at Sweet Prices at Walmart.com
Shop Gifts at Sweet Prices this Valentine's Day at Walmart.com
Dryer repair help and repair parts...
Dryer References - Dryer Maintenance Tips - Frequently Asked Questions

Super Bowl is soon!!
Shop Snacks for Less at Walmart.com!
Save More on Kitchen Appliances at Walmart.com!
Find Great Big Screen TVs for Less at Walmart.com!
Dishwasher Spray-Arm Leak
Some leaking around-under-from the door on dishwashers can be traced back to a split in the spray arm. If the lower spray arm develops a split in it, the spray arm can turn too fast, and shoot water directly at things that it is not suppose to spray water at....sprays water at the door vents or edges and can create water leaks.
A split on a Maytag dishwasher lower spray arm...
(Click on the picture to make it bigger)
---
Dishwasher Parts