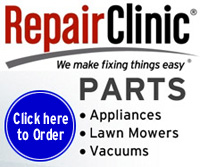 Due to high costs for keeping this site running, please consider making a donation.
A little today will help to ensure we will still be here tomorrow!
Content Article: Adopt These Money-Saving Habits This Winter
Content Article: Five Easy Fixes for Your Appliances
Content Article: Keeping Your Microwave Happy
Content Article: Range Cleaning 101
Cerama Bryte, glass-ceramic cooktop cleaner
Solid surface range element restorer
Oven cleaning kit, includes (1) expanding sponge, (1) scrubbing sponge, (1) scraper
Content Article: Quick & Easy Fridge Fixes
Content Article: 7 Simple Dryer Repairs You Can Do Yourself
Dryer Cord and Plug Problems
In the last few years, I have seen an increase in problems with the power cord and cord plug receptacle. Some common complaints have been "odor of burning"....."dryer is dead"....."running with no heat"....."intermittent running"..... Note, the burnt plug prong on the bottom 1/2 of the picture, usually both the cord and cord plug receptacle must be replaced. Remove power and check for this problem if you encounter any of the complaints mentioned above.
---