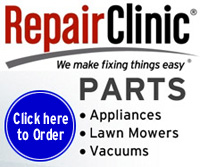 Due to high costs for keeping this site running, please consider making a donation.
Cellars Wine Club
Dishwasher repair help and repair parts...
Dishwasher References - Dishwasher Maintenance Tips - Frequently Asked Questions

Are You Owed Unclaimed Money & Don't Know It? Millions of Americans go year after year not even knowing that they have thousands of dollars in unclaimed money. Find out if you do with this easy free trial search.
Click Here to Get Fast Cash this Summer Season.
Dryer Cord and Plug Problems
In the last few years, I have seen an increase in problems with the power cord and cord plug receptacle. Some common complaints have been "odor of burning"....."dryer is dead"....."running with no heat"....."intermittent running"..... Note, the burnt plug prong on the bottom 1/2 of the picture, usually both the cord and cord plug receptacle must be replaced. Remove power and check for this problem if you encounter any of the complaints mentioned above.
---
Dryer Parts