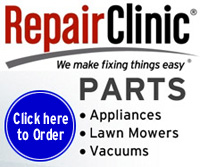 Due to high costs for keeping this site running, please consider making a donation.
Take the Hassle Out of Moving. Let MoverJunction Help You.
Shop Amazon Back to School - Printer Deals
Appliance repair help and repair parts...
Repair Help for Appliances, Lawn Mowers, HVAC and more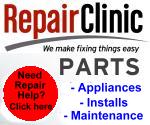 RepairClinic.com is the trusted online store with 1,000,000+ replacement parts and maintenance products for 160 appliance, outdoor power equipment and heating and cooling equipment brands

Get extra cash when quarters aren't cutting it. You can rely on Check Into Cash. Get cash now!
All brands of vacuum cleaners, vaccum accessories, parts and air purifiers available at Govacuum.com
$7.5 off any purchase $50 or more* at Govacuum. Use coupon code 7summer during checkout.
Dryer Heating Poorly
A tip on what to look for with a poor heating dryer....
Poor air flow is a very common trouble maker for slow to dry or poor heat complaints. Just sticking your hand under the vent hood and saying "I feel air" is not enough. Always check/change/shorten the venting and vent hood first, then check air flow in your dryer. The dryer is full of air vents and ducts that must be cleaned/checked as well. They could be in the door, on the back of the inside of the drum. A loose or clogged fan blower can also effect air flow. Poor/loose/worn drum seals will stop proper air flow as well.
I was on a service call and found this problem...even after I suggested the customer check the venting/dryer air ducts/lint filter before we look at the dryer. "Everything is good" is what they told me..... guess again.....this is what I found.....
Not much air flow through that grill. Looks to be approx 1/2 plugged :-(
---
Dryer Parts