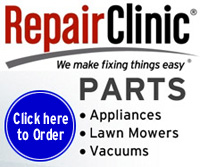 Due to high costs for keeping this site running, please consider making a donation.
Friday, September 4th is Force Friday! Go to Walmart.com for the latest Star Wars movies and to relive earlier movies and TV shows on DVD, Blu-ray and Video on Demand by VUDU. You'll also find exciting Star Wars video games, Star Wars books and Star Wars toys, including action figures, LEGO Star Wars sets and more. You can even deck out your home with Star Wars-themed bedding and wall art. Plus, even more exciting news, you'll find a bunch of new Star Wars products and Walmart.com exclusives! In addition, you can get free shipping on orders $50+. And may the Force be with you!
Star Wars- A New Generation is here. Be part of the story & save big at Walmart.com!
Appliance repair help and repair parts...
RepairClinic.com is the trusted online store with 1,000,000+ replacement parts and maintenance products for 160 appliance, outdoor power equipment and heating and cooling equipment brands

Dryer Pilot Light Help
Older gas dryers had a pilot light which was a small flame that burnt constantly. The pilot light was responsible for igniting the main burner flame. This pilot light flame would sometimes get very small and keep going out. This was usually because the pilot orifice was getting dirty and was partly plugged. The pilot orifice must be cleaned out when the flame becomes too small to light the main burner. You can blow air through the pilot assembly to help clean it out, don't use something metal in the pilot orifice hole or you risk enlarging the pilot gas feed hole and the pilot light may be too BIG. If your pilot flame keeps "going out", chances are you will need to replace the pilot latch assembly, do make sure the vent hood flapper is closing ok and no outside air blowing in is effecting the pilot flame.
This is a thermocouple that sensed the heat from the pilot flame and kept a small amount of gas flowing to allow the pilot light to stay lit. If you followed the instructions ( usually found inside the small access door on the front bottom ) on how to re-lite your pilot when it goes out and the flame will not stay on, replace the pilot latch assembly. Update 11/23/2009 - part for these may now be NLA :(
There are some instructions on how to replace the pilot latch.
---
Dryer Parts