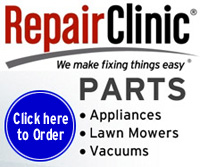 Due to high costs for keeping this site running, please consider making a donation.
A little today will help to ensure we will still be here tomorrow!
Content Article: Adopt These Money-Saving Habits This Winter
Content Article: Five Easy Fixes for Your Appliances
Content Article: Keeping Your Microwave Happy
Content Article: Range Cleaning 101
Cerama Bryte, glass-ceramic cooktop cleaner
Solid surface range element restorer
Oven cleaning kit, includes (1) expanding sponge, (1) scrubbing sponge, (1) scraper
Content Article: Quick & Easy Fridge Fixes
Content Article: 7 Simple Dryer Repairs You Can Do Yourself
Dryer Pilot Light Help
Older gas dryers had a pilot light which was a small flame that burnt constantly. The pilot light was responsible for igniting the main burner flame. This pilot light flame would sometimes get very small and keep going out. This was usually because the pilot orifice was getting dirty and was partly plugged. The pilot orifice must be cleaned out when the flame becomes too small to light the main burner. You can blow air through the pilot assembly to help clean it out, don't use something metal in the pilot orifice hole or you risk enlarging the pilot gas feed hole and the pilot light may be too BIG. If your pilot flame keeps "going out", chances are you will need to replace the pilot latch assembly, do make sure the vent hood flapper is closing ok and no outside air blowing in is effecting the pilot flame.
This is a thermocouple that sensed the heat from the pilot flame and kept a small amount of gas flowing to allow the pilot light to stay lit. If you followed the instructions ( usually found inside the small access door on the front bottom ) on how to re-lite your pilot when it goes out and the flame will not stay on, replace the pilot latch assembly. Update 11/23/2009 - part for these may now be NLA :(
There are some instructions on how to replace the pilot latch.
---