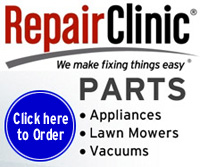 Due to high costs for keeping this site running, please consider making a donation.
A little today will help to ensure we will still be here tomorrow!
Put A Little Spring In Your Step!
For whatever season you find yourself in, we have the parts you need to complete any home repair and get the job done today! 5% off parts for appliances, lawn equipment and heating and cooling equipment now through March 31st.
Shop for Lawn Equipment Parts
Repair help for appliances, lawn equipment and heating and cooling.
12% Extra Discount on K9 Advantix at CanadaPetCare. Limited Stock for discounted price is available for Coupon Code-CPC12ON. Get Free Shipping on all order in USA. Guaranteed Cheapest. Shop Now
Food Waste Disposal Repair Section
Always remember Electricity is dangerous and should be treated with respect.
Please pick a topic by Make and or problem...hope you find this helpful :-)
My food waste disposal smells....HELP!
For common every day food odors from a disposal, try....to make your disposal smell better & to clean the blades, put in some ice cubes with either bleach, or lemon, lime or orange peels. Then grind for 30 seconds. Smells great!
For really bad problems, try Affresh Dishwasher and Disposer Cleaner. Scrubs away food, grease and odors. Safe for septic tanks and drain pipes.
Food waste disposal:
This is often called a garberator, it is really not for garbage but is more for food waste control. Sometimes the disposal unit can all of a sudden quit - dead. Check turn on switch ( if yours has one ) make sure the house fuse did not open circuit. A common problem is if something got stuck or momentarily jammed the unit the safety breaker on the bottom of the unit may have tripped. Find the safety breaker on the bottom of the unit, push on the red button to reset the switch. If something hard like a small bone or something similar gets jammed in the cutting teeth, I disconnect the power, locate the bolt inside the food waste disposal. I use a couple of long socket extensions, with a socket and wrench....with the socket on the bolt in the middle, slowly turn it to help UN-jam the cutting teeth and plate. Reinstall the power and try the unit.
Many disposals have an Allen key bolt on the underneath part, in the middle. An Allen wrench, like this one, can be used to turn the unit manually to help un-jam what is caught inside. Reinstall power and try the unit.
My disposal will not shut off - newer Insinkerator ( ISE ) & Maytag switch help
One common problem in the last few years has been the food waste disposal will not shut off. There have been many different types of lid switches, some are magnetic reed switches ( older Maytag ), some have been a magnet mounted on a micro switch arm ( older Kitchen aid - Kenmore ) and in the last few years a push type switch that the lid stopper hits when the lid stopper is locked in place has been used. Many times this switch stuck and the food waste disposal would not shut off when the lid stopper was removed. This switch was a screw in type of a switch which seemed to have many problems....an up-dated replacement switch assembly has come out to replace the trouble maker style. ISE, Maytag, Insinkerator and many more disposals have used this style of switch and now have this new up-dated switch to use as a replacement. Here's how to change the switch.
Some foods that could make your disposal not work properly
Stringy things like corn husks, celery stalks, tea bag strings have a tenancy to "windup" around the beaters in the disposal and can stop them from working.
I just installed my disposal and now my dishwasher will not drain
New disposals have a "plug" in the connection stub for the dishwasher drain hose. This plug MUST be removed or the dishwasher will not be able to drain into the disposal.
---