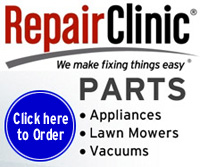 Due to high costs for keeping this site running, please consider making a donation.
Save on Back to College Shopping at Walmart.com!
More Everyday Beauty and Health Items for Back to College Available at Walmart.com!
Find School Supplies at a Great Price at Walmart.com!
Dishwasher repair help and repair parts...
Dishwasher References - Dishwasher Maintenance Tips - Frequently Asked Questions

Glowing Ice Cubes - Pink
$19.99
Light up the night with our?pink glowing ice cubes. They are perfect for parties, special occasions and can be...[Read More]
Frigidaire Frontload Washer Single Item
Important: Washing a single item in a front load washer...

Washing a single item, such as a sweater, bath towel or jeans is not recommended. As the machine tumbles the load prior to the final spin, it may sense an out of balance load. If an out of balance load is sensed, the washer will stop briefly and tumble for a short time to try to balance the load. This stop-tumble action may occur several times before the end of the cycle. If the load cannot be evenly balanced, items may feel wet at the end of the cycle. Adding 1 or 2 similar items will help balance the load.

If a load becomes tangled and out of balance, it may be necessary to rearrange the load by hand. Stop (or pause ) the washer and open the door. Remove the load, untangle the items and return the load to the tub. Close the door and restart the washer.

A single bulky item such as a bedspread, comforter or sleeping bag, can be laundered without adding extra items to the load.
---
More washing machine parts...