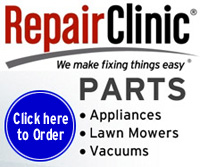 Due to high costs for keeping this site running, please consider making a donation.
A little today will help to ensure we will still be here tomorrow!
Content Article: Adopt These Money-Saving Habits This Winter
Content Article: Five Easy Fixes for Your Appliances
Content Article: Keeping Your Microwave Happy
Content Article: Range Cleaning 101
Cerama Bryte, glass-ceramic cooktop cleaner
Solid surface range element restorer
Oven cleaning kit, includes (1) expanding sponge, (1) scrubbing sponge, (1) scraper
Content Article: Quick & Easy Fridge Fixes
Content Article: 7 Simple Dryer Repairs You Can Do Yourself
Frigidaire Ice Dispenser
One of the Frigidaires newer style through door dispenser is front serviceable. You must remove the sump grill, the housing side trims are double sided carpet taped on....you must carefully pull them free from the door panel or slice the tape with a sharp knife. Remove the Phillips screws and the dispenser will come towards you for servicing. Please see the picture below....
( Click on the picture for a larger view )
---
Water filters for GE, Whirlpool, Electrolux/Frigidaire, Maytag, Amana refrigerators.