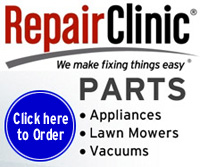 Due to high costs for keeping this site running, please consider making a donation.
Find Great Valentine's Day Gifts at Sweet Prices at Walmart.com
Shop Gifts at Sweet Prices this Valentine's Day at Walmart.com
Dryer repair help and repair parts...
Dryer References - Dryer Maintenance Tips - Frequently Asked Questions

Super Bowl is soon!!
Shop Snacks for Less at Walmart.com!
Save More on Kitchen Appliances at Walmart.com!
Find Great Big Screen TVs for Less at Walmart.com!
Frigidaire Ice Dispenser
One of the Frigidaires newer style through door dispenser is front serviceable. You must remove the sump grill, the housing side trims are double sided carpet taped on....you must carefully pull them free from the door panel or slice the tape with a sharp knife. Remove the Phillips screws and the dispenser will come towards you for servicing. Please see the picture below....
( Click on the picture for a larger view )
---
Water filters for GE, Whirlpool, Electrolux/Frigidaire, Maytag, Amana refrigerators.