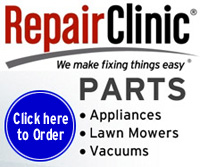 Due to high costs for keeping this site running, please consider making a donation.
A little today will help to ensure we will still be here tomorrow!
Content Article: Adopt These Money-Saving Habits This Winter
Content Article: Five Easy Fixes for Your Appliances
Content Article: Keeping Your Microwave Happy
Content Article: Range Cleaning 101
Cerama Bryte, glass-ceramic cooktop cleaner
Solid surface range element restorer
Oven cleaning kit, includes (1) expanding sponge, (1) scrubbing sponge, (1) scraper
Content Article: Quick & Easy Fridge Fixes
Content Article: 7 Simple Dryer Repairs You Can Do Yourself
Frigidaire New 2 Pump Dishwasher
Timer Stalls
This unit starts and runs normally until it gets about half way through the wash cycle and than the timer stops advancing and it will continue to wash until you manually turn the timer. When it gets to that point, a switch will open on the timer, and it will not advance until the thermostat closes. But, you could have a bad gear in the timer, the thermostat might not be closing when it gets to temperature, or it may not be getting to temperature if the the heater is not coming on or the timer contacts for it are not closing.
Reference model# - FDB125RHB3 but 154290204 200*F(93*C) is a Hi-Limit and should be closed ( #29 in this example picture ). If this opens up the timer can stop in the "heat up the water" modes.
One pump is for washing and the other pump is for draining.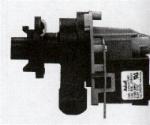 This is the drain pump.
Service sheets...
The lower featured dishwasher lower spray arm just lifts out...the higher featured dishwasher lower spray arm must be twisted to unlock it to remove the lower spray arm.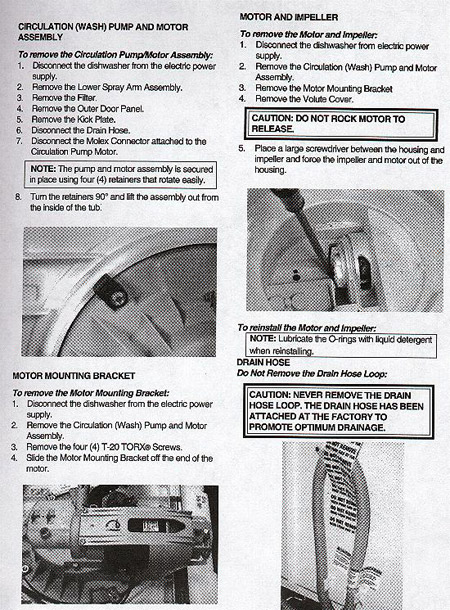 Click for larger image
Frigidaire dishwasher cont.....
This is a picture of the pump with the water direction ball in place...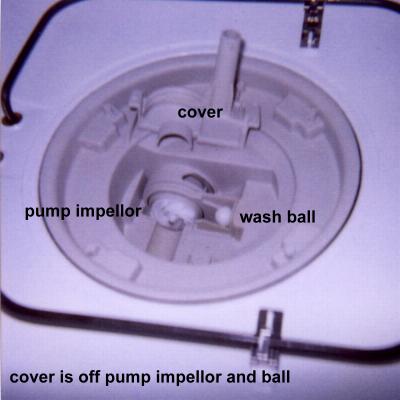 ---