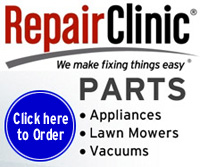 Due to high costs for keeping this site running, please consider making a donation.
Hunger Games costumes/accessories at low prices.
Find Thanksgiving Costumes at low prices from HalloweenCostumes.com
HalloweenCostumes.com
Alice in Wonderland Costumes
Dryer repair help and repair parts...
Dryer References - Dryer Maintenance Tips - Frequently Asked Questions

The newer GE and Hotpoint refrigerators the ones with the motherboard on the back use thermistors to sense temperature in the freezer, fresh food compartment, and evaporator. The motherboard on the back of the refrigerator sends an electrical pulse to the sensor to measure its change in resistance and thus sense the change in temperature of the refrigerated space. The older thermistors had a defective seal which allowed water to seep in.
This messes with the resistance and sends weird signals to the motherboard resulting in erratic temperature control.
If you're having temperature control problems in your GE fridge, check to see if you have the old-style thermistors. If you do, you should replace all of them. Most models ( not all ) have four: two in the fresh food section, one in the freezer, and one mounted directly on the evaporator.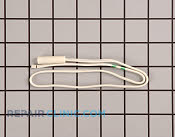 Temperature sensor (thermistor) Manufacturer Number WR55X10025.
---