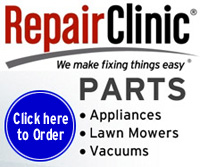 Due to high costs for keeping this site running, please consider making a donation.
Shop Amazon Lawn & Garden - Free Assembly of Premium Grills
Appliance repair help and repair parts...
Repair Help for Appliances, Lawn Mowers, HVAC and more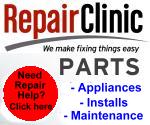 RepairClinic.com is the trusted online store with 1,000,000+ replacement parts and maintenance products for 160 appliance, outdoor power equipment and heating and cooling equipment brands

Shop Now - Introducing Amazon Echo
GE Arctica Refrigerator Models
Models Affected...
All 23/25/27 and 29 cubic foot electronic side-by-side refrigerator units with plastic liners manufactured in 2001 or later. This includes all ProfileTM (ArcticaTM and EternaTM ) models.
Consumer Issues...
Consumers have called with reports of freezing in the Vegetable (middle) pan or the CustomCoolTM (bottom) pan, frozen water tank or frozen water filter.
Freezing in the pans will lead to the following customer concerns:
Food freezes in middle pan
Food freezes in bottom pan
A frozen water tank will lead to the following customer concerns:
Will not dispense water
Water dispenses at a slow rate
Water dispenses intermittently
A frozen water filter will lead to the following customer concerns:
Will not dispense water
Water dispenses at a slow rate
Water dispenses intermittently
Not making ice
Ice production/dispensation rate too slow
Filter cracked/bust
Filter frozen
Cause of Freezing...
Freezing in the pans, a frozen water tank or a frozen water filter is caused by excessive airflow from the vents in the tower.
Recommended Repair...
To eliminate these freezing issues, install kit WR49X10045. Follow the instructions included in the kit.
Please Note: Installation of a new main control board will not reduce freezing in these areas.
Damper door broken GE arctica:
Affects all 2001 models produced with "M" as the eight letters in the model i.e.: PSS25SGM with serial date code LA4 , MA4 , RA4 , SA4 , TA4 , VA4 , ZA4 & AD4. Freezing happens when damper door breaks leaving the unit with no control over the very cold air entering fresh food compartment from the freezer.
Replace damper door assembly , with new damper door kit WR49X10091.
To verify the damper door is broken , remove the light shield and rear light bulb from the top of the refrigerator. Enter the factory diagnostic mode by pushing all four temperature control buttons at the same time. Perform damper motor test ( FZ 1 , FF 0 ). Press any other button i.e. Custom cool or filter reset to start damper test cycle. Shine flashlight through right hand side opening of light assembly to view movement of damper door. To exit test mode ( FZ 1 , FF 6 ). lf damper door assembly needs to be replaced , pull top two shelves out 2 ". Pull rear tower assembly slightly forward with both hands, move to the left and the right to expose the two screws that secure the duct assembly , also remove both screws that secure the duct to the ceiling. Replace with new damper motor assembly WR49X10091.
---
Refrigerator Parts