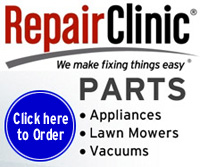 Due to high costs for keeping this site running, please consider making a donation.
A little today will help to ensure we will still be here tomorrow!
Content Article: Adopt These Money-Saving Habits This Winter
Content Article: Five Easy Fixes for Your Appliances
Content Article: Keeping Your Microwave Happy
Content Article: Range Cleaning 101
Cerama Bryte, glass-ceramic cooktop cleaner
Solid surface range element restorer
Oven cleaning kit, includes (1) expanding sponge, (1) scrubbing sponge, (1) scraper
Content Article: Quick & Easy Fridge Fixes
Content Article: 7 Simple Dryer Repairs You Can Do Yourself
GE Dishwasher Repair Help
Always remember Electricity is dangerous and should be treated with respect. Please pick a topic by Make and or problem...hope you find this helpful :-)
Quick Info Tips...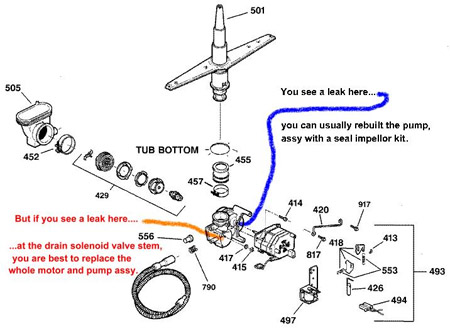 Motor and pump assembly leaks.
If you see water leaking out where the plastic body and metal motor part comes together, sometimes replacing the impellor and seal kit will fix you up. If you see water leaking out of the drain valve stem, usually best to replace the motor and pump assembly.
Quick info tips and schematics for the GE Nautilus dishwasher
---