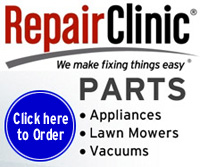 Due to high costs for keeping this site running, please consider making a donation.
A little today will help to ensure we will still be here tomorrow!
Content Article: Adopt These Money-Saving Habits This Winter
Content Article: Five Easy Fixes for Your Appliances
Content Article: Keeping Your Microwave Happy
Content Article: Range Cleaning 101
Cerama Bryte, glass-ceramic cooktop cleaner
Solid surface range element restorer
Oven cleaning kit, includes (1) expanding sponge, (1) scrubbing sponge, (1) scraper
Content Article: Quick & Easy Fridge Fixes
Content Article: 7 Simple Dryer Repairs You Can Do Yourself
GE Dryer Motor Replacement
(Click on the picture to make it bigger)
When replacing a motor ALWAYS write down the color and #'s of the wires BEFORE removing them!! The wiring diagram can assist is finding what color wire goes where....look carefully at the wiring diagram that came with your dryer....see the motor section. Normally the motor switch wires are marked as E.G. - M5 and that wire will have a color code, M1 and a color code, M4 and a color code and so on. The #1-2-4-5-6 on the wiring diagram is the same #'s that is on the motor switch.
The motor switches have really gone through some physical changes but the wire#'s appear to remain the same/similier...
The above motor switch as an example is wired... #2 - Black, #1 - Purple, #4 - Brown, #5 - Orange, #6 - Yellow.
The above motor switch as an example was wired...#1 - Black, #2 - Purple, #4 - Brown, # 5 - Red, # 6 - Yellow
The above motor as an example is wired...#1 - Black, #2 - Purple, #4 - Yellow, #5 - Red, #6 - Pink. Green is the ground.
Yet another motor and wire switch....
---