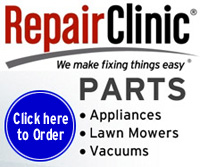 Due to high costs for keeping this site running, please consider making a donation.
Cellars Wine Club
Dishwasher repair help and repair parts...
Dishwasher References - Dishwasher Maintenance Tips - Frequently Asked Questions

Are You Owed Unclaimed Money & Don't Know It? Millions of Americans go year after year not even knowing that they have thousands of dollars in unclaimed money. Find out if you do with this easy free trial search.
Click Here to Get Fast Cash this Summer Season.
GE Dryer Timers
Many times in the last 5-15 years, I have run into many of these new style timers that have burnt heat contacts in them. Often the timer knob can be wiggled and the heat ( gas and electric ) will go on and off because of the loose and burnt contacts. You will need a new timer or it may be possible to get your old one rebuilt. Other noticeable complaints, only heats sometimes*, sections of the timer cycle will heat and other parts will have no heat at all, must hold timer knob to make the heat work.
The timer can be black or white in color and make note of the burnt contacts in the lower part of the picture. ( blackened marks around the contacts is a sign of arcing and sparking )
(Click for larger image)
An awful lot of poor, intermittent heat on GE dryers can also be traced back to a broken heating element. One of the two elements breaks giving lower heat or intermittent heat from the element touch or not touching!
---
Dryer Parts