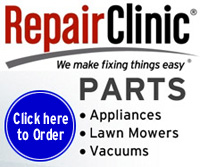 Due to high costs for keeping this site running, please consider making a donation.
Shop Amazon Gift Cards - Last Minute Gift for Mom
Appliance repair help and repair parts...
Repair Help for Appliances, Lawn Mowers, HVAC and more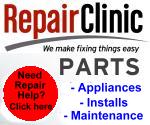 RepairClinic.com is the trusted online store with 1,000,000+ replacement parts and maintenance products for 160 appliance, outdoor power equipment and heating and cooling equipment brands

Shop Mother's Day Gifts at Walmart.com!
Find Mother's Day Gifts for Less at Walmart.com!
Jewelry, Fragrances and More Mother's Day Gifts for Less at Walmart.com!
Shop Amazon - Mother's Day Gifts
Shop Amazon - May the Fourth be with You - Star Wars Event
GE New Style Pump Repair
GE dishwasher motor and pump seal and impellor assembly Repair Aid...
On all repairs, always remove the power first !!
To access the motor and pump seals, remove the power, remove the lower access panels. Remove the hoses ( may be one or two ) on the left side of the motor and pump assembly. Remove the wires from the drain solenoid, remove the wires going to the main pump motor. There are two large clamps that must be loosened ( not removed ) to remove the motor and pump. One is behind the motor on the rubber boot, the other is on top of the motor and pump up near the liner bottom. Remove front support bar and screw as well. The motor can now be removed from the unit to do the seal repair.
Installation Instructions:
Hold motor shaft, remove old cutter blade.
Remove the grater (note it is a left hand thread) (rotate clockwise) and discard.
Remove the stainless steel wear ring and its retainer and discard.
Hold fan and remove the old impeller ( right hand thread, turn counter clockwise) and discard.
Remove bellows seal and discard.
Disassemble motor from pump ( 3 screws on motor side ) ( Save the 3 screws )
Remove the protective shield from the motor shaft and discard.
Press ceramic seal out of the pump housing press from motor side.
Install new ceramic and rubber seal assembly by pressing firmly in place making sure the ceramic is perpendicular to the motor shaft.
Install the motor to the pump with the 3 screws and torque to 15 to 30 in.lbs.
Install new impeller hold fan while pushing the impeller against the seal rotating clockwise. To 5 to 10 in.lbs.
Install the new stainless steel wear ring and it's new retainer.
Install new grater turning counter clockwise. Torque to 50 to 70 1n.lbs.
Install new heavy duty spring cutter by holding the fan and turning the spring cutter clockwise.
The new heavy duty spring cutter will not work with the old impeller.
THE NEW HEAVY DUTY SPRING CUTTER MUST BE USED WITH THE NEW IMPELLER
---
Dishwasher Parts