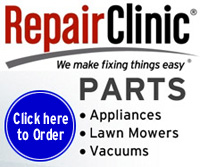 Due to high costs for keeping this site running, please consider making a donation.
A little today will help to ensure we will still be here tomorrow!
Content Article: Adopt These Money-Saving Habits This Winter
Content Article: Five Easy Fixes for Your Appliances
Content Article: Keeping Your Microwave Happy
Content Article: Range Cleaning 101
Cerama Bryte, glass-ceramic cooktop cleaner
Solid surface range element restorer
Oven cleaning kit, includes (1) expanding sponge, (1) scrubbing sponge, (1) scraper
Content Article: Quick & Easy Fridge Fixes
Content Article: 7 Simple Dryer Repairs You Can Do Yourself
GE Newer Washer Timer Circuit Board
This small electronic board is directly behind the timer assembly. It was originally suppose to "count" the spin turn speed, and if the washer was spinning too slowly it would shut off the washer = dumb idea! There were wires that went from this board down to a magnet switch mounted on the base of the transmission.
If this board fails, the washer can go "dead". This board is in series with the lid switch. This link here describes info on this board, where it was in the washer and how to by-pass it.
---