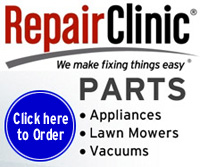 Due to high costs for keeping this site running, please consider making a donation.
Get the money you need with an advance!
Dishwasher repair help and repair parts...
Dishwasher References - Dishwashre Maintenance Tips - Frequently Asked Questions

Shop Holiday Clearance at Walmart.com!
Shop Holiday Rollbacks at Walmart.com!
Clearance & Rollbacks - the Deals You Waited for Are at Walmart.com
Christmas Day is coming!!
50% Off Retail Prices for Wine Club Members at Cellars Wine Club.
Cookies From Home
GE Older Style Washer Belt Changing
GE older style belt change helps....
To replace a GE washer belt, remove power, remove back panel. On the left side is the motor, clutch, pump and belt. The pump is driven by a coupler clamped to the pump and clutch assembly. Loosen one of these clamps enough to move the coupler away so the old belt can be slipped past the coupler and also to facilitate the new belt to be installed. The belt runs in a pulley built into the top of the clutch assembly and can be "run" onto the transmission pulley very easily. To adjust the belt tension, pull out the washer, tilt it back against the wall......there are 3 nuts and bolts holding the motor assembly to the bottom frame, loosen these nuts off, the holes on the motor bracket are oval shaped so the motor assembly can be moved back and forth. You can move motor to tighten or loosen the belt, just make the belt fairly snug and don't over tighten it.
---
More washing machine parts...