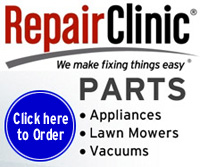 Due to high costs for keeping this site running, please consider making a donation.
Find Great Valentine's Day Gifts at Sweet Prices at Walmart.com
Shop Gifts at Sweet Prices this Valentine's Day at Walmart.com
Dryer repair help and repair parts...
Dryer References - Dryer Maintenance Tips - Frequently Asked Questions

Super Bowl is soon!!
Shop Snacks for Less at Walmart.com!
Save More on Kitchen Appliances at Walmart.com!
Find Great Big Screen TVs for Less at Walmart.com!
GE Over-The-Range Microwave
Q - Hello, My GE Microwave Oven (model #JVM1630*****) is about 5 years old and won't heat food anymore. Any hints on what electrical circuits to check?
A - Confirm 110-120 volts AC is entering the primary coil on the high voltage transformer....meter works but can be fooled, I usually rig up a light socket and household light bulb and hook that to the 2 input wires for the transformer and see if the light works or not when you run the microwave....can even set a power level and watch the light go on and off. Discharge the capacitor first before attempting any checks or tests.
Scary but works!....
If ok, put those 2 wires back on the transformer. Discharge the capacitor.
Remove the 2 wires going to the magnetron....run the microwave a few seconds ( 2-3 ) and remove power....again discharge the high voltage capacitor. If you got a good crack & spark when you discharge the cap the second time you are creating high voltage but not using it ( bad magnetron or loose High Voltage wire somewhere )....if you get no crack & spark you are not creating high voltage. This will work on all microwaves with a transformer and diode system ( not the inverter style ).
How to check a common high voltage diode. Check the diode with one end off/disconnected....should show continuity one way, reverse your meter leads and none the other way.....many meters are not high/good enough and often show no continuity ( infinity ) in both directions. A full continuity reading in both directions (0 ohms) on the diode may be shorted/bad one!
Many GE OTR microwaves however have a defect in the microwave distribution system which causes the magnetron tube to overheat and cut out and/or damage the diode. There is a field modification kit to repair such a condition on GE models JVM1630*, JVM1631*, JVM1640*, JVM1642*, JVM1650*, JVM1651*, JVM1660* and JVM1661* which come with all parts necessary to correct the condition. You can see the kit at the link below:
Magnetron & Stirrer Kit
---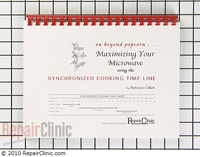 On beyond popcorn . . . Maximizing Your Microwave
Microwave Parts