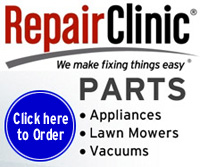 Due to high costs for keeping this site running, please consider making a donation.
A little today will help to ensure we will still be here tomorrow!
Content Article: Adopt These Money-Saving Habits This Winter
Content Article: Five Easy Fixes for Your Appliances
Content Article: Keeping Your Microwave Happy
Content Article: Range Cleaning 101
Cerama Bryte, glass-ceramic cooktop cleaner
Solid surface range element restorer
Oven cleaning kit, includes (1) expanding sponge, (1) scrubbing sponge, (1) scraper
Content Article: Quick & Easy Fridge Fixes
Content Article: 7 Simple Dryer Repairs You Can Do Yourself
GE SxS Refrigerator Door
GE SxS refrigerators have what are called ride-ups. One half of this assembly is riveted to the door hinge the other half is screwed to the bottom of the door. It is usually best to replace both parts at the same time. Both fridge and freezer doors have this type of a ride-up.
Remove power, remove the upper hinge cover. Remove the upper hinge screws ( if the freezer door - disconnect the water line ), lift the door off the lower hinge and lay it down on the floor. The parts can be easily replaced now. See the picture below to see what the parts look like ( freezer hinge shown in the picture )....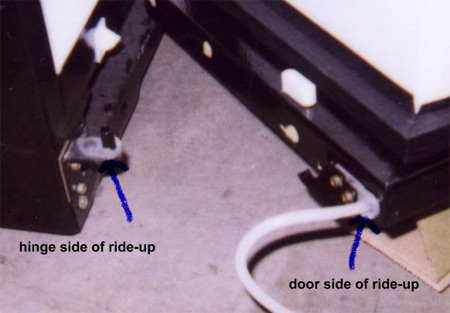 ---