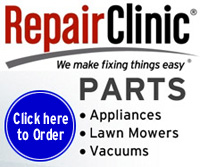 Due to high costs for keeping this site running, please consider making a donation.
Friday, September 4th is Force Friday! Go to Walmart.com for the latest Star Wars movies and to relive earlier movies and TV shows on DVD, Blu-ray and Video on Demand by VUDU. You'll also find exciting Star Wars video games, Star Wars books and Star Wars toys, including action figures, LEGO Star Wars sets and more. You can even deck out your home with Star Wars-themed bedding and wall art. Plus, even more exciting news, you'll find a bunch of new Star Wars products and Walmart.com exclusives! In addition, you can get free shipping on orders $50+. And may the Force be with you!
Star Wars- A New Generation is here. Be part of the story & save big at Walmart.com!
Appliance repair help and repair parts...
RepairClinic.com is the trusted online store with 1,000,000+ replacement parts and maintenance products for 160 appliance, outdoor power equipment and heating and cooling equipment brands

GE Washing Machine Agitators
GE older style washer
GE newer style washer
On older style GE washers the agitator is held down by a agitator hold down *WH1X1986. The hold down is fitted onto of the transmission shaft. The drive block is pushed into the agitator hold down and the two parts keep the agitator from popping up. If you have trouble with this type of a problem, replace both parts. The agitator drive block *WH1X1944 can be very difficult to replace, there are special tools required to replace the drive block. It may be a good idea to take the agitator into local repair shop and have them replace the drive block for you.
If your agitator and drive block are held down by a bolt to the transmission shaft, your washer does not have a agitator hold down and uses a different drive block inside the agitator that has a much heavier spine in it and this drive block appears to give less trouble.
*Part#'s - may be different where you are.
The newer GE washers ( plastic tubs ) have a bell housing that is bolted to the transmission shaft. The bottom of the agitators have small fingers that grab and hold the bell housing. After a while these fingers and bell housing seem to wear out and the agitator pops up. Replace both the agitator * WH43X142 ( different agitators depending on which model you have ) and the bell housing *WH43X10009.
*Part#'s - may be different where you are.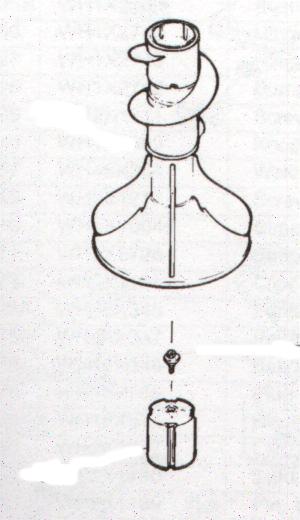 If your washer still runs ok during the agitate mode but the agitator will not move, check for a stripped out air bell housing, the spline inside the air bell housing will actually strip off. Remove the agitator, remove the bolt holding the air bell housing to the transmission shaft and lift up hard to remove the air bell housing. If the air bell housing is stuck to the transmission shaft, you will have to break it off! A large flat screwdriver and hammer works well for me.
---
More washing machine parts...