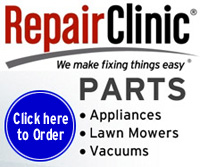 Due to high costs for keeping this site running, please consider making a donation.
Friday, September 4th is Force Friday! Go to Walmart.com for the latest Star Wars movies and to relive earlier movies and TV shows on DVD, Blu-ray and Video on Demand by VUDU. You'll also find exciting Star Wars video games, Star Wars books and Star Wars toys, including action figures, LEGO Star Wars sets and more. You can even deck out your home with Star Wars-themed bedding and wall art. Plus, even more exciting news, you'll find a bunch of new Star Wars products and Walmart.com exclusives! In addition, you can get free shipping on orders $50+. And may the Force be with you!
Star Wars- A New Generation is here. Be part of the story & save big at Walmart.com!
Appliance repair help and repair parts...
RepairClinic.com is the trusted online store with 1,000,000+ replacement parts and maintenance products for 160 appliance, outdoor power equipment and heating and cooling equipment brands

GE Washer Noisy In Spin Mode
If your washer is making a "freight train" like noise in the spin mode, ( loud roaring ), this is often the spin bearing built into the bottom area of the transmission that is worn out. This bearing is part of the transmission and means a new transmission is required. The noise is usually a result of water leaking from the center seal and bearing area onto the transmission. This water washes out the bearing and it gets very noisy in the spin cycle!! Do check the easy stuff before condemning, nail/pin caught in one of the inner basket holes, nothing is caught in the drain pump, the inner wash basket is not loose and wobbling around.
See how to take apart info for access to the washer parts.
Once you have the front off, look for water leaking from the center area just above the transmission. Often the transmission is covered with staining from the leak.
Look in this area for the leak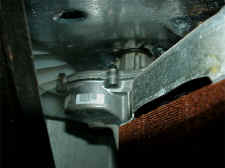 There is a special tool required to replace the transmission, spanner tool part# WX5X1325. The transmission is part# WH38X10002, the seal comes with the new transmission as a kit. Just in case, the seal part# is WH2X1196.
Related items, further info:
Also see our noise tip for washers and dryers
---
More washing machine parts...