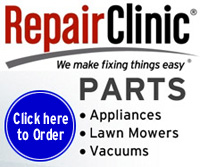 Due to high costs for keeping this site running, please consider making a donation.
Find Great Valentine's Day Gifts at Sweet Prices at Walmart.com
Shop Gifts at Sweet Prices this Valentine's Day at Walmart.com
Dryer repair help and repair parts...
Dryer References - Dryer Maintenance Tips - Frequently Asked Questions

Super Bowl is soon!!
Shop Snacks for Less at Walmart.com!
Save More on Kitchen Appliances at Walmart.com!
Find Great Big Screen TVs for Less at Walmart.com!
Heat Around Refrigerator Door
I feel heat/warmth on the front edge of my refrigerator....why?
Older refrigerators had electric heaters on the edges of the refrigerator cabinet to help prevent moisture from building up, especially in the hot/hazy weather in the summer time. These electric heaters usually had a switch where you could turn them on or off...had words like..."switch here to prevent moisture"...switch here in damp weather".... in the picture it is in the top left of the control assembly.
Then along came the energy crunch. The manufactures stopped using the electric heaters and started running a pass of the hot condenser tubing on the edges of the cabinet where the electric heaters use to be. This is often called a yoder loop tube SxS version and the yoder loop tube Top freezer version. This has now replaced the electric heaters. If you feel heat/hot around the door opening of your refrigerator you should....
clean the condenser coils as a dirty condenser can make the tubing hotter than normal
check/clean & replace if necessary the condenser cooling fan ( # F ) motor, if the condenser fan motor is slow or has quit the yoder loop pass will get very warm/hot to the touch
If the condenser coils are clean and the condenser fan motor is running ok, check the fresh food and freezer section temperatures...if the refrigerator is not operating well and the temps inside are warming up, you could feel more heat/warmth than normal
---
Refrigerator Parts