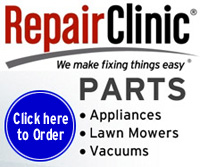 Due to high costs for keeping this site running, please consider making a donation.
A little today will help to ensure we will still be here tomorrow!
Content Article: Adopt These Money-Saving Habits This Winter
Content Article: Five Easy Fixes for Your Appliances
Content Article: Keeping Your Microwave Happy
Content Article: Range Cleaning 101
Cerama Bryte, glass-ceramic cooktop cleaner
Solid surface range element restorer
Oven cleaning kit, includes (1) expanding sponge, (1) scrubbing sponge, (1) scraper
Content Article: Quick & Easy Fridge Fixes
Content Article: 7 Simple Dryer Repairs You Can Do Yourself
How Multi-Terminal Dryer Thermostats Work
These multi terminal thermostats work the same way, they open and close the circuit to the heating source and the dryer heat will go on or off. The difference is the two smaller terminals coming out of the top. These two small terminals go inside the thermostat and are attached to a small heater. This is heater can be an 110 volt heater or an 220 volt heater. If you ever need to replace this type of an thermostat, be sure to read the label on the middle of the thermostat carefully!
Example of an thermostat with an 110 volt heater
Example of an thermostat with an 220 volt heater
The small heater inside these multi-terminal thermostats will change the temperature rating of the thermostat and change when it will open and close to shut off or turn on the heat. No power from the timer or temperature selector switch and the thermostat will be the temperature written on the thermostat, e.g. 155ºF. When the timer or temperature switch sends power to the two smaller terminals and the heater inside these multi-terminal thermostats, the thermostat will cycle quicker giving lower/delicate heat inside the dryer.
Some have a separate heater to warm up the thermostat.
The round part of the thermostat fits inside of the round part of this external heater. When the timer or selector switch sends power to this heater, it will warm up the thermostat so the thermostat will cycle faster giving lower air temperatures.
---