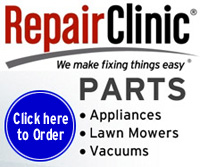 Due to high costs for keeping this site running, please consider making a donation.
A little today will help to ensure we will still be here tomorrow!
Content Article: Adopt These Money-Saving Habits This Winter
Content Article: Five Easy Fixes for Your Appliances
Content Article: Keeping Your Microwave Happy
Content Article: Range Cleaning 101
Cerama Bryte, glass-ceramic cooktop cleaner
Solid surface range element restorer
Oven cleaning kit, includes (1) expanding sponge, (1) scrubbing sponge, (1) scraper
Content Article: Quick & Easy Fridge Fixes
Content Article: 7 Simple Dryer Repairs You Can Do Yourself
How To Take Apart Newer Maytag Dryer
Maytag new style dryer - Reference model# MDE5806AYW
Some take apart helps....
( Remove power! )
This is an new Maytag dryer, it is built from the Amana style dryer.
There are two clips between the top panel and front, use a putty knife or small flat screw driver to depress in the clips so the top panel can be undone and lifted up.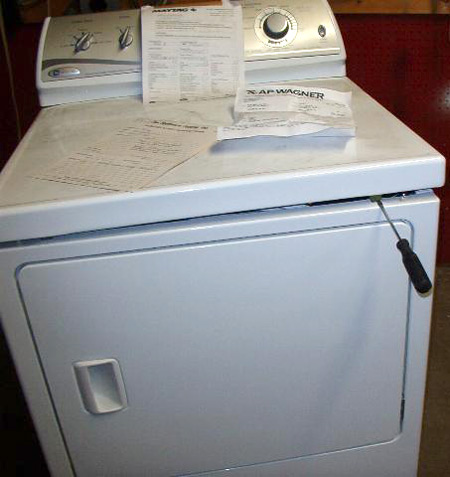 At the top on the inside are two screws to remove. On the dryer that I was working on these where a 5/16 nut driver style screw.
The top of the front panel will tilt out towards you and the panel must be lifted off of the clips near the bottom and rolled off to the right side.
There are 4 screws to be removed so the bulk head can be lifted up and away from the dryer.
With the bulk head off, the belt can be rolled off of the motor and idler pulley and the drum can be lifted out.
How the belt and idler pulley look with the belt installed and in place.
---