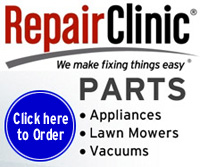 Due to high costs for keeping this site running, please consider making a donation.
Save on Back to College Shopping at Walmart.com!
More Everyday Beauty and Health Items for Back to College Available at Walmart.com!
Find School Supplies at a Great Price at Walmart.com!
Dishwasher repair help and repair parts...
Dishwasher References - Dishwasher Maintenance Tips - Frequently Asked Questions

Glowing Ice Cubes - Pink
$19.99
Light up the night with our?pink glowing ice cubes. They are perfect for parties, special occasions and can be...[Read More]
Icemaker Parts
Below are resources for determining your model number for your icemaker, finding the icemaker part you need, and lists of commonly replaced parts for various brands of icemakers.
Find your part with RepairClinic.com's Shop for Parts feature.
Search by part number or model number for best results.
If you don't know your model number - try searching by appliance type, brand or part type.
Icemaker Parts and Accessories:
Icemaker installation kit (Copper tubing)

Item Number WX8X4

Icemaker installation kit (Plastic tubing)

Item Number PT25E

Amana icemaker kit

Item Number C3641510

Frigidaire icemaker kit

Item Number IM34

GE & Universal icemaker kit

Item Number IM6

GE icemaker - round cubes

Item Number WR30X253

Maytag icemaker kit

Item Number 12500048

Whirlpool icemaker kit

Item Number 4317943

Single coil fill valve kit

Item Number 4318047

Plastic connector for 5/16" plastic water line

Item Number WR2X8545

Coupler, water line, 1/4" to 1/4"

Item Number 4211117

Plastic tubing coupler, 1/4" to 5/16"

Item Number B5706901

Dual coil fill valve kit

Item Number 12001414

GE, Hotpoint cartridge water filter

Item Number MWF

Frigidaire cartridge water filter

Item Number WFCB

Frigidaire pure source water filter 2

Item Number WF2CB

Frigidaire pure source water filter

Item Number WF1CB

Whirlpool, Coldspot long cartridge water filter

Item Number 4396508

Whirlpool, Coldspot cartridge water filter

Item Number 8171413

Amana cartridge water filter

Item Number WF401S

Amana "clean&clear" water filter

Item Number UKF8001

Whirlpool up front water filter

Item Number 4396508

Whirlpool up front water filter 2

Item Number 4396510

GE water filter adaptor

Item Number ADAPTER

Inline "add on" water filter

Item Number AP717

Maytag cartridge water filter - UKF7002AXX and UKF7001AXX have been updated to new part number UKF7003AXX

Item Number UKF7003

Whirlpool icemaker repair module

Item Number W10190935

Whirlpool P.C. Board kit, emitter & receiver for the icemaker

Item Number 4389102

Whirlpool - Sears Icemaker Defrost Timer - Replaces flex tray icemaker and timer assembly.

Item Number SA1005
---