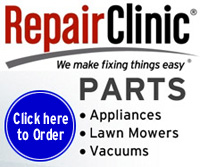 Due to high costs for keeping this site running, please consider making a donation.
It's On! Find Big Deals Before Black Friday at Walmart.com
Pre-Black Friday at Walmart.com- Find Big Deals before the Big Day!
Pre-Black Friday is On at Walmart.com! Find Big Deals before the Big Day
Dryer repair help and repair parts...
Dryer References - Dryer Maintenance Tips - Frequently Asked Questions

Don't Miss Great Savings on Gifts at Walmart.com!
Shop Home Specials Available Online Only at Walmart.com!
Shop Personalized Gifts at Walmart.com!
Shop Top-Rated Gifts for Kids at Walmart.com!
Shop LG Products for Less at Walmart.com!
LG 55LB6300 55" 1080p 120Hz Direct LED Smart HDTV - Only $899 at Walmart.com!
LG 55LB5900 55" 1080p 60Hz Class LED HDTV - Only $678 at Walmart.com!
Thanksgiving Day is coming!!
Cookies From Home
Find the tackiest sweater you can imagine at UglyChristmasSweater.com today!
Appliance Repair and Parts Help, New Purchase Info and More!
Welcome to Appliance Repair Aid, Your Online
Appliance Repair Shop
ApplianceAid.com is your resource for appliance repair help and appliance parts. We also have appliance purchase help information if your old appliance is just too far gone for fixing, and a wealth of other appliance information.
---
Appliance tip of the week...
Lament of a Parts Person
I work behind the counter of a parts and accessories store. Sometimes I'm called the genius; sometimes I'm called lots more. I'm just a simple parts person but when a job goes sick, the experts come to me and ask, "What makes this darn thing tick?" I'm supposed to know the numbers of tubes and bolts and gears, on every product that's been made for more than forty years. Mind-reader and magician, and handyman as well. I'm supposed to be an Edison plus Alexander Bell. But life would be a pleasure and I'd smile from ear to ear, if people just would tell me the MODEL, MAKE and YEAR!
If your cooking appliances have been acting up, look into getting them repaired well in advance of the holidays. Some common components may be in short supply in peak seasons, leaving you eating out or ordering in during those family holiday times!.
So it's the holidays, and you're responsible for the main dish. Don't worry; you're only five steps away from serving the perfect bird at your big feast. Read on to learn how to cook a turkey.
Step 1: Thaw it. If using a frozen turkey, thaw in its original plastic wrapper in the fridge. Allow for five hours per pound, or per 500 g. Quicker method: Cover the turkey with cold water (the sink is a good place for this), and change with fresh cold water every 30 minutes; allow one hour per pound (500 g).
Step 2: Season it. Prepare the turkey by removing giblets and neck. Rinse and wipe the cavity; sprinkle with salt and pepper or stuff lightly using skewers to fasten skin over the cavity.
Step 3: Roast it. Place turkey, breast side up, on rack in roasting pan. Brush with melted butter or oil. Tent loosely with foil. Roast in 325ºF (160ºC) oven for about 20 minutes per pound (500 g) or until juices run clear when turkey is pierced and when thermometer inserted into thickest part of thigh registers 180ºF (82ºC) for a stuffed turkey or 170ºF (77ºC) for an unstuffed turkey. Remove tent for last hour of roasting.
Step 4: Cover and leave it. When turkey is done, transfer to warm platter. Tent with foil and let stand for 20 to 30 minutes. This allows time for juices at the surface of the bird to distribute evenly throughout the meat.
Step 5: Carve turkey. Eat and enjoy!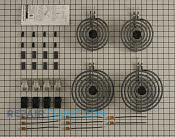 Surface coil element replacement kit, 2 eight inch elements, 2 six inch elements, four receptacles and related hardware

Polder 3 function thermometer: large LCD read out displays the temperature of food during cooking. Presettable HI/LOW and inside the range temperature alert. Timer: 24 hour count down and count-up. Clock: Real-time clock. Stainless steel probe. Temperature chart and battery included
---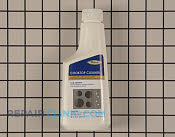 Cooktop cleaner
---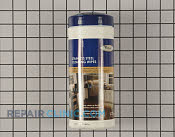 Stainless steel wipes
---
Care For It. Check out our maintenance calendar to help your appliance or lawn mower improve its efficiency and extend its life.