Appliance Repair and Parts Help, New Purchase Info and More!
Welcome to Appliance Repair Aid, Your Online
Appliance Repair Shop
ApplianceAid.com is your resource for appliance repair help and appliance parts. We also have appliance purchase help information if your old appliance is just too far gone for fixing, and a wealth of other appliance information.
---
Appliance tip of the week...
Electronic Control Boards - Emitter and Receiver
This set of two electronic control boards contains both the emitter and the receiver. These boards tells the icemaker when it's full and that it has to dump the ice, and it also tells the icemaker when to refill with water.
Whirlpool built refrigerators (also found on Jenn Air, Kenmore, Kitchen Aid, and Maytag brand refrigerators) with the ice bin located in the door use two optic control boards to tell when the ice bin is full of ice. There is an emitter control board that sends out an infrared beam, and a receiver board that receives the infrared beam. When the ice container fills up with ice, the beam is blocked, and it tells the ice maker to stop filling up with ice. If the ice maker optic control boards fail, it can cause the ice maker to continue to make ice even when it is full of ice or turned off, or it can cause the ice maker to not produce any ice at all. The optics control boards are replaced as a set, even if only one of the two control boards are bad, both will need to be replaced.
Step#1: Open the freezer and view the status led
(STATUS LED)
2 BLINKS FOLLOWED BY 1 SEC. DELAY(REPEATED)
POSSIBLE CAUSES: The flapper door on the emitter is blocking the beam or the optics are faultly.
Step#2: Press the emitter flapper to unblock the optics beam
(STATUS LED)
2 BLINKS FOLLOWED BY 1 SEC. DELAY(REPEATED)
POSSIBLE CAUSES: The optics are faulty. Replace the emitter and receiver boards.
If the LED is on steady: The optics are working properly.
Some extra info on the emittor and receiver boards...
More emitter board info linked here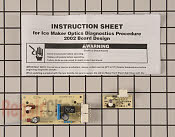 Power control board kit, emitter and receiver icemaker control, Manufacturer Number 4389102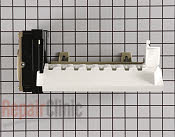 Icemaker assembly, For in-door ice models, Manufacturer Number 2198597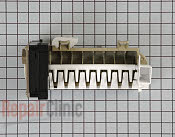 Icemaker - Does not include front cover or wire harness, Manufacturer Number W10190965
Care For It. Check out our maintenance calendar to help your appliance or lawn mower improve its efficiency and extend its life.