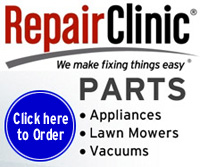 Due to high costs for keeping this site running, please consider making a donation.
Get the money you need with an advance!
Dishwasher repair help and repair parts...
Dishwasher References - Dishwashre Maintenance Tips - Frequently Asked Questions

Shop Holiday Clearance at Walmart.com!
Shop Holiday Rollbacks at Walmart.com!
Clearance & Rollbacks - the Deals You Waited for Are at Walmart.com
Christmas Day is coming!!
50% Off Retail Prices for Wine Club Members at Cellars Wine Club.
Cookies From Home
Kenmore/Whirlpool Ice Dispenser 2
Look at the underneath side of the dispenser trim, usually there are slots to put a screwdriver into to GENTLY!!!! pry it out at the bottom ( may be stuck on with double sided tape). After the bottom is pried out ,you SHOULD be able to gently lift it up and off small tabs that hook into the top part of what they call the escutcheon. Then everything is right there for you to tear into.
( Click on the picture for a larger view )
This tip brought to you by Fyxxer - Thank You!!
---
Water filters for GE, Whirlpool, Electrolux/Frigidaire, Maytag, Amana refrigerators.