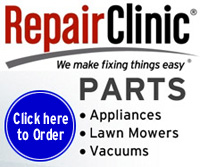 Due to high costs for keeping this site running, please consider making a donation.
A little today will help to ensure we will still be here tomorrow!
Put A Little Spring In Your Step!
For whatever season you find yourself in, we have the parts you need to complete any home repair and get the job done today! 5% off parts for appliances, lawn equipment and heating and cooling equipment now through March 31st.
Shop for Lawn Equipment Parts
Repair help for appliances, lawn equipment and heating and cooling.
12% Extra Discount on K9 Advantix at CanadaPetCare. Limited Stock for discounted price is available for Coupon Code-CPC12ON. Get Free Shipping on all order in USA. Guaranteed Cheapest. Shop Now
Kenmore/Whirlpool Ice Dispenser 2
Look at the underneath side of the dispenser trim, usually there are slots to put a screwdriver into to GENTLY!!!! pry it out at the bottom ( may be stuck on with double sided tape). After the bottom is pried out ,you SHOULD be able to gently lift it up and off small tabs that hook into the top part of what they call the escutcheon. Then everything is right there for you to tear into.
( Click on the picture for a larger view )
This tip brought to you by Fyxxer - Thank You!!
---
Water filters for GE, Whirlpool, Electrolux/Frigidaire, Maytag, Amana refrigerators.