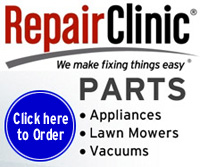 Due to high costs for keeping this site running, please consider making a donation.
Amazon gift card for Mothers Day
How to get your lawnmower ready for spring and MUCH, MUCH, MUCH more!
The Great Spring Tune-Up Kit Sale

My Model Numbers - Saved just for you for future reference
Kenmore/Whirlpool Ice Dispenser 2
Look at the underneath side of the dispenser trim, usually there are slots to put a screwdriver into to GENTLY!!!! pry it out at the bottom ( may be stuck on with double sided tape). After the bottom is pried out ,you SHOULD be able to gently lift it up and off small tabs that hook into the top part of what they call the escutcheon. Then everything is right there for you to tear into.
( Click on the picture for a larger view )
This tip brought to you by Fyxxer - Thank You!!
---
Water filters for GE, Whirlpool, Electrolux/Frigidaire, Maytag, Amana refrigerators.