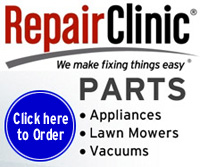 Due to high costs for keeping this site running, please consider making a donation.
Get the money you need with an advance!
Dishwasher repair help and repair parts...
Dishwasher References - Dishwashre Maintenance Tips - Frequently Asked Questions

Snow Flake Foil Centerpiece
$1.99
Includes (1) 12 inch tall snow flake centerpiece. [Read More]
Christmas Day is coming!!
50% Off Retail Prices for Wine Club Members at Cellars Wine Club.
Cookies From Home
Maytag Atlantis and Performa Take-Apart Info
"Pop" the top panel by locating the front clips with a putty knife.
Locate the two 5/16 screws for the front panel, some are inside the front panel, some are on top.
The front panel will tilt out towards you and lift off of the clips on the bottom front.
To access the brake pad and stator...a brake tool is required. The large center pulley must be removed and all the washers and thrust bearing before using the brake tool. The brake tool holds the 200lb spring so it will not come flying out and hurt you!! Once the brake tool is installed and screwed down, the six 5/16 screws can be removed to remove the brake stator and brake pad. The washers assembly was removed for a better picture, this can all be done from the bottom of the washer with the washer tilted up and supported.
Top crown will unclip off and the 4 bolts on the inner basket bottom can be removed to remove the inner basket.
The shaft seal and nut is removed by a pipe wrench, be careful not to break off the spikes, use the wrench on the solid part. ( right hand thread )
Seal and flange tool is needed to spin off the upper seal.
The upper 1/2 of the seal spins off ( right hand thread ) to access the lower 1/2 of the tub seal.
---
More washing machine parts...