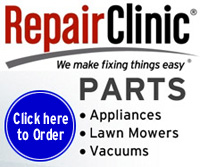 Due to high costs for keeping this site running, please consider making a donation.
Save on Back to College Shopping at Walmart.com!
More Everyday Beauty and Health Items for Back to College Available at Walmart.com!
Find School Supplies at a Great Price at Walmart.com!
Dishwasher repair help and repair parts...
Dishwasher References - Dishwasher Maintenance Tips - Frequently Asked Questions

Glowing Ice Cubes - Pink
$19.99
Light up the night with our?pink glowing ice cubes. They are perfect for parties, special occasions and can be...[Read More]
Maytag Dryer Latch Replacement
The install the new door latch kit, the front panel will need to be removed from the dryer. Unplug the dryer. Remove screws ( see picture below )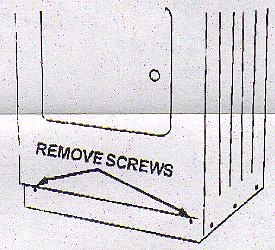 Lift up on the front panel and swing bottom of the panel away from the dryer to disengage top of the panel from the dryer top. Front panel may be set to one side. If necessary, the door switch wires may be disconnected and the front panel removed completely from the unit.
Using a pair of pliers, squeeze the expanded portion of the strike and push it out of the slot.
Place the expanded end of the new door catch into the slot in the front panel and press firmly. Reinstall front panel and screws.
Open door. Support door and remove two screws from doorknob side of the door. Also, remove screw from the doorknob. Spread door halves. Using a pair of pliers, squeeze the expanded end of the strike together. Then push it out through the slot in the door.
Insert the expanded end of the new door strike into the slot and press firmly through both the door and the metal backup plate. Squeeze door halves back together and reinstall screws.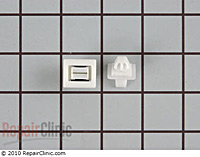 Door catch kit, includes catch and clip
---
Dryer Parts