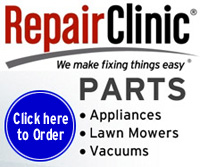 Due to high costs for keeping this site running, please consider making a donation.
Hunger Games costumes/accessories at low prices.
Find Thanksgiving Costumes at low prices from HalloweenCostumes.com
HalloweenCostumes.com
Alice in Wonderland Costumes
Dryer repair help and repair parts...
Dryer References - Dryer Maintenance Tips - Frequently Asked Questions

Maytag-Gemini Fault Codes
Biggest section of Fault Codes that I am aware of!
Maytag Gemini Range fault codes.
Maytag Accellis Range fault codes.
What does an oven temp sensor look like?
F1: Temperature runaway. Membrane switch shorted. Alarm is continuous. If cancel key is pressed alarm will stop. If fault still present alarm will repeat. If membrane switch is disconnected the alarm will only sound for 30 seconds and stop. Correction: Test membrane switch and sensor. If ok, replace control.
F3: Open or shorted sensor. The cancel key resets the control and stops the alarm. If fault is still present it will reactivate the alarm when the cook mode is chosen. Correction: Check sensor and wiring for shorted or open circuit.
F9: Door lock error. Check the status of the door lock switches.
Maytag Gemini fault codes:
| | |
| --- | --- |
| Maytag Gemini fault codes. | |
| Fault code | Suspect area |
| F0 - 0 | None |
| F1 - 1 | Runaway cook upper oven |
| F1 - 2 | Runaway cook lower oven |
| F1 - 3 | Runaway clean upper oven |
| F1 - 4 | Runaway clean lower oven |
| F1 - 5 | Keypad cancel upper |
| F1 - 6 | Keypad cancel lower |
| F1 - 7 | Keypad disconnected |
| F1 - 8 | Keypad shorted |
| F3 - 1 | Sensor upper oven |
| F9 - 1 | Latch lock upper |
| F9 - 3 | Latch lock lower |
| F9 - 5 | Latch unlock lower |
| F1 - 9 | Slave |
| F1 - A | Latch switch upper |
| F1 - B | Latch switch lower |
| F1 - C | Door switch upper |
| F1 - D | Door switch lower |
| F1 - E | EEPROM, Control |
| F1 - F | Jumper, Control |
| F1 - H | EEPROM, Read, control |
| F1 - L | Sensor, Track, Control |
| F3 - 2 | Sensor lower oven |
| F9 - 2 | Latch unlock upper |
| F9 - 4 | Latch lock lower |
| F9 - 6 | Latch both lower |
Maytag's Accellis 2X Range fault codes
| | |
| --- | --- |
| Fault code | Suspect area |
| F0 - 0 | None |
| F1 - 1 | Oven temp over 650ºF |
| F1 - 2 | Oven temp over 950ºF |
| F1 - 3 | Shorted key in membrane switch |
| F1 - 4 | Membrane disconnected |
| F1 - 5 | Cancel key not responding |
| F1 - 7 | Slave microprocessor not responding |
| F1 - 8 | EEPROM error |
| F3 - 1 | Sensor is shorted or open |
| F1 - 9 | Control not calibrated |
| F1 - A | Latch switch |
| F1 - C | Door switch |
| F1 - E | Control not calibrated |
| F1 - F | Jumper wire disconnected |
| F1 - H | EEPROM, Read, Control |
| F1 - N | VCC, Control |
| F2 - 1 | Door state input circuitry failure |
| F9 - 1 | Door lock will not lock |
---