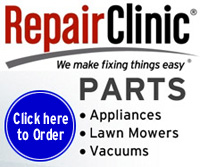 Due to high costs for keeping this site running, please consider making a donation.
A little today will help to ensure we will still be here tomorrow!
Content Article: Adopt These Money-Saving Habits This Winter
Content Article: Five Easy Fixes for Your Appliances
Content Article: Keeping Your Microwave Happy
Content Article: Range Cleaning 101
Cerama Bryte, glass-ceramic cooktop cleaner
Solid surface range element restorer
Oven cleaning kit, includes (1) expanding sponge, (1) scrubbing sponge, (1) scraper
Content Article: Quick & Easy Fridge Fixes
Content Article: 7 Simple Dryer Repairs You Can Do Yourself
Maytag Spark Module 12001596 Replacement
For intermittent sparking, intermittent ignition, one or two burners will not light problems. Make sure the igniter electrodes ceramic body is not cracked, make sure the finish is not flaking off from the inside of the burner ( remove the burner and shake it to see if any flakes fall out ). If all is ok, try Maytag's newest spark module kit, part# 12001596.
The spark module is often under the cook top at the back on older slide in ranges and down beside the drawer behind the drawer rail near the back on standard ranges. For built in counter cook tops the spark module is under the cook top panel.
Instructions help for the spark module - click here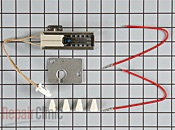 Flat oven igniter kit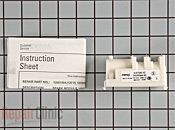 Maytag style spark module
---