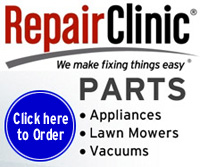 Due to high costs for keeping this site running, please consider making a donation.
Save on Back to College Shopping at Walmart.com!
More Everyday Beauty and Health Items for Back to College Available at Walmart.com!
Find School Supplies at a Great Price at Walmart.com!
Dishwasher repair help and repair parts...
Dishwasher References - Dishwasher Maintenance Tips - Frequently Asked Questions

Glowing Ice Cubes - Pink
$19.99
Light up the night with our?pink glowing ice cubes. They are perfect for parties, special occasions and can be...[Read More]
Maytag Washer Shaft Seal Replacement
On *some* Dependable Care style transmissions there is a changeable shaft seal on the bottom. The only reason you would need to change this seal is if your transmission is leaking oil out of the bottom shaft into the dust cup, onto the pulley or floor.
You can do a visual check on the transmission bottom to see if your transmission uses this type of a seal. The center pulley and lug will need to be removed to view the black seal pushed into the bottom of the transmission.
A Tip from our friend Fyxxer....
Check the last 2 digits on the serial #. A washer with the letters RJ and later alphabetically speaking I guess use a lip seal. At least that's how I tell ... hope that helps .
Repair Aid sheets for replacing this seal can be found below....
---
More washing machine parts...