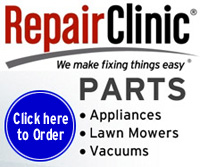 Due to high costs for keeping this site running, please consider making a donation.
Shop Amazon - The Wedding Store
Dryer repair help and repair parts...
Dryer References - Dryer Maintenance Tips - Frequently Asked Questions

Shop Pets Halloween - Best-Selling Pet Costumes
Shop Amazon - Women's Halloween Costumes
Shop Amazon - Men's Halloween Costumes
Shop Amazon - Baby Halloween Costumes
Microwave Parts
Below are resources for determining your model number for your microwave, finding the microwave part you need, and lists of commonly replaced parts for various brands of microwaves.
Find your part with RepairClinic.com's Shop for Parts feature.
Search by part number or model number for best results.
If you don't know your model number - try searching by appliance type, brand or part type.
Microwave Parts and Accessories:
Microwave interior paint Touch-up paint, citrine white, 4.5 oz. Spray can for microwave oven liner

Item Number 261900

Microwave interior paint Pearl White microwave cavity touch-up paint. 6 oz. aerosol can

Item Number 98QBP0300

Replacement door switch

Item Number 28QBP0495

15 amp fuse

Item Number WB27X7

20 amp fuse

Item Number 14QBP20CFB
---