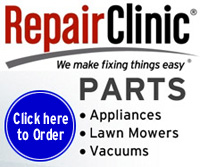 Due to high costs for keeping this site running, please consider making a donation.
Get the money you need with an advance!
Dishwasher repair help and repair parts...
Dishwasher References - Dishwashre Maintenance Tips - Frequently Asked Questions

Snow Flake Foil Centerpiece
$1.99
Includes (1) 12 inch tall snow flake centerpiece. [Read More]
Christmas Day is coming!!
50% Off Retail Prices for Wine Club Members at Cellars Wine Club.
Cookies From Home
Name that Part
Often knowing what that part is called is half the battle for getting the correct part for our repair. Common names and detailed descriptions of the appliance components can be found from links below....
These are interactive and will 'pop-up' a detailed description when the browser mouse pointer moves over specific areas. These interactive pages may require a Flash or Java enabled browser to view them.
Air Conditioner - Interactive
Dryers - various models Interactive
Dryers extra:

Dryer electric ( rear view )

Dryer electric inside ( front view)

Dryer gas inside (front view )


Dehumidifier - Interactive
Electric Range - Interactive
Garbage disposal - Interactive
Icemaker - Interactive
Range hood - Interactive
Range Gas - Interactive
Refrigerator Bottom Freezer - Interactive
Refrigerator Top Freezer - Interactive
Refrigerator SxS - Interactive
Refrigerator Bar style - Interactive
Washers - various models Interactive
Maytag Neptune washer - Interactive
---
Dryer Parts