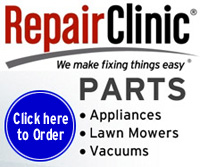 Due to high costs for keeping this site running, please consider making a donation.
Appliance repair help and repair parts...
RepairClinic.com is the trusted online store with 1,000,000+ replacement parts and maintenance products for 160 appliance, outdoor power equipment and heating and cooling equipment brands

Neptune Washer Access
---
Remove power!!
Open the door and remove the 4 screws on the inside of the door opening.

Lift off the door and hinges from the door hinge slots.

To remove the front panel, twist the upper right and left panel extensions inward by pressing in on the outer upper edges of the front panel posts. This will disengage the front posts from the clips located on the face of the cabinet flange.


Tilt the top of the front panel away from the washer. Disengage the lower lip of the front panel from the 2 clips along the front edge of the washer base frame. Then lift and remove the front panel.
You now have access to the front of the washer. If you need to lift the top panel, read on....
Remove the 4 screws fastening the dispenser bezel to the top of the washer cover.

Remove the two 5/16 hex head screws securing the 2 hold down brackets on the top panel.


To remove the hold down brackets, swing the brackets to the outside to unhook the bracket from the slot in the top cover lip. Carefully lift the front of the top cover vertically, until the top cover leans back and it will remain vertical on it's own. You may have to pull the washer forward to allow sufficient room to lean the top cover back.
---
To access the belt, remove the power. Pull out the washer and remove the rear access panel.
Tips on changing the washer belt ( acrobat reader required )
Belt parts link
---
Remove power. Remove the front panel. The drain pump is on the right back part of the washer on the base. It is sometimes easier to reach the drain pump assembly if you remove the motor control board ( front right of picture below ). You can check/remove the drain pump assembly from the front of the washer.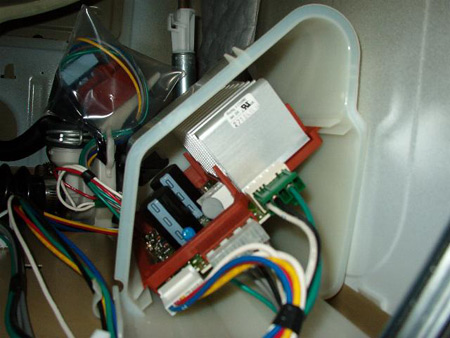 ---
Maytag's Neptune washer has a latch and lock on the door. If this lock fails to open when the cycle is finished. You can rescue your clothes by:
Remove the bezel from the soap/bleach/fabric softener dispenser.

Locate the red cord near the right front corner of the dispenser opening. Pull on this red cord. This will unlatch the door so you can rescue your laundry. Then call for service.




*

Some of the lock cords are now green or Orange
---
More washing machine parts...