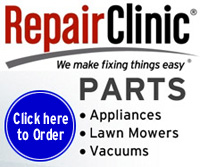 Due to high costs for keeping this site running, please consider making a donation.
A little today will help to ensure we will still be here tomorrow!
12% Extra Discount on K9 Advantix at CanadaPetCare. Limited Stock for discounted price is available for Coupon Code-CPC12ON. Get Free Shipping on all order in USA. Guaranteed Cheapest. Shop Now
Neptune Washer Burnt Resistor Tips
Tips that show what components need to be checked/replaced if a certain resistor on machine control board is bad. It is as follows: Burnt resistors in Maytag Neptune washer models MAH4000 and MLE/MLG2000.
The machine control board (MachCntrlBd) resistor circuitry is protected by triacs, which during periods of high current may fail to protect these resistors. Maytag has identified seven resistors that relate to specific components that need to be checked or replaced. Listed here is the resistor ID, the circuit involved, and the recommendation:
R9 / pressure switch / check for loose connections or high resistance on switch contacts; replace pressure switch if necessary
R11 / door lock wax motor / replace door lock mechanism and machine control board
R51 / hot water valve solenoid / replace water valve and machine control board
R52 / timer motor / check for loose relay terminal connections and replace machine control board
R53 / cold water valve solenoid / replace water valve and machine control board
R143 / (-) 24 VDC / contact was made between neutral and the 24 VDC circuit
R162 / electrical buffer circuit / wire harness and machine control board
---