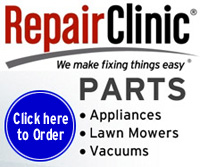 Due to high costs for keeping this site running, please consider making a donation.
A little today will help to ensure we will still be here tomorrow!
Content Article: Adopt These Money-Saving Habits This Winter
Content Article: Five Easy Fixes for Your Appliances
Content Article: Keeping Your Microwave Happy
Content Article: Range Cleaning 101
Cerama Bryte, glass-ceramic cooktop cleaner
Solid surface range element restorer
Oven cleaning kit, includes (1) expanding sponge, (1) scrubbing sponge, (1) scraper
Content Article: Quick & Easy Fridge Fixes
Content Article: 7 Simple Dryer Repairs You Can Do Yourself
Neptune Washer Repair Tips
Neptune repair tips and motor ohm test....
My washer will start when I push the start button, but a few seconds later, it will shut off or shuts off during the cycle.
There are 4 common trouble makers to consider.
One is the door switch, it can open circuit and stop the washer.
For some reason Maytag has seen fit to discontinue the lock and latch as a complete assembly and will only sell it as individual parts new.
Second is water pressure. If the water pressure is low/poor, the washer will start to fill and then shut off. Check and clean the fill valve entrance screens and also check for any washer screens on either end of the fill hoses. There is a low water pressure fill jumper kit assembly part# 12001482. To see info on the 12001482 link kit check it out here.
The third is possibly the most common trouble maker for this type of a complaint. The fuse blows on the motor control board. This board can be found on the front bottom on the right side. Take apart info. The motor control board must be replaced when the fuse has blown. Most times now the motor control board is replaced with a motor kit - the motor kit:
Motor/control conversion kit, Neptune washer
The fourth is a bad start switch, sometimes the contacts in the start switch will arc and burn causing starting up problems.
Start/Stop switch, white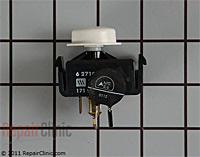 Switch, push to start white
---
To ohm test the original style motor windings....
Blue to Black measure 2-3 ohms

White to Red measure 2-3 ohms

Orange to Yellow measure 2-3 ohms
There should be no continuity between any of the terminals and the frame of the motor.
---